Highland View Students Featured in Environmental Textbook
September 08, 2010 ∙ by owetmore ∙ in Chesapeake Conference, Education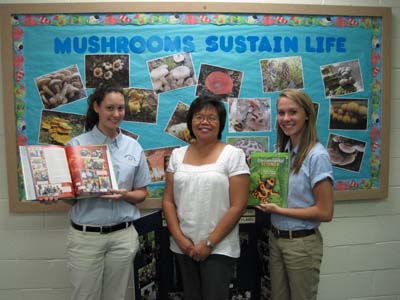 Story by Renee Williams
The new Pearson Education textbook, Environmental Science–Your World, Your Turn, (2011 Edition) by Jay Withgott, features several students from Highland View Academy (HVA) in Hagerstown, Md. A full color, two-page spread on pages 612 and 613 of the new textbook highlights the Environmental Science class' Toyota Tapestry award-winning mycology project led by Ophelia Barizo, science teacher. The book, which was released for publication this summer, will be used by thousands of environmental science students all over North America, and possibly internationally.
The feature includes a description of the project and several pictures of student activities outdoors and in the laboratory. An introduction to some of the featured projects in the book states that through the projects, "you will be able to explore what students like you have done for their communities' environment." It goes on to read, "their efforts can serve as inspiration for you and your classmates." 
The Environmental Science class at HVA is using this textbook this year. The books were provided free to students through a grant. Students whose pictures are in the text also received complimentary copies from the publisher. 
The class has also produced a 60-page booklet, Wild Mushrooms of Washington County, Maryland, which was published this month. Barizo recently attended the North American Mycological Association conference in Colorado, and is pleased to report that the mycologists at the conference are excited that mycology is being taught in a high school class. They are hoping that more schools will start including mycology in the high school science curriculum, since mushrooms are fast becoming a sustainable way to break down toxins that harm humans and the environment, and are vitally important in forest ecosystems.