Local Haitian Memorial Service Draws 1,500
April 13, 2010 ∙ by owetmore ∙ in Allegheny East Conference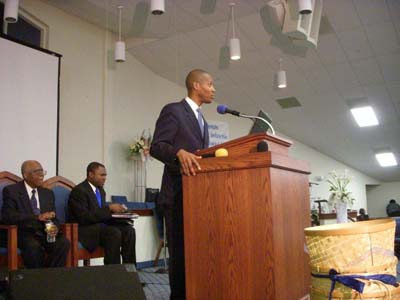 By Taashi Rowe
Some 1,500 people recently gathered at the Eglise Baptiste du Calvaire (the largest Haitian church in the Washington, D.C., area) last Sabbath, to honor the memories of their loved ones who died in the Haitian earthquake earlier this year. Realizing many of his members were unable to go back home for a funeral, Arbentz Pierre Antoine, pastor of Allegheny East Conference's Horeb Haitian church in Hyattsville, Md., worked with other Haitian denominations to organize the service. 
"We have had different activities together but we never had a moment to grieve together," Pastor Antoine said. "This time we wanted one [community] event that could bring everybody together so that they could grieve on each other's shoulders."
The event drew many in the Haitian community together and offered closure to those still mourning. Agniel Samson, ThD, chair of the Religion and Theology Department at Oakwood University (Ala.) addressed the gathering.