Ohio Hosts 6th Innovation Conference
October 07, 2010 ∙ by owetmore ∙ in Columbia Union News, Kettering Health, Washington Adventist University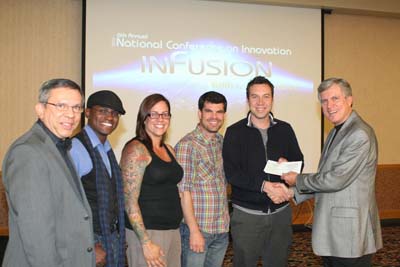 Story by Celeste Ryan Blyden | Photos by Marcellus de Oliveira
This week, the Ohio Conference convened the sixth annual National Conference on Innovation. Some 160 attendees from 16 states and Canada gathered in Columbus, Ohio, for three days to talk about new ways to fulfill the gospel commission. "The Adventist Church in North America needs to find fresh approaches to mission and ministry that are relevant to our time and place," says Ohio president Raj Attiken, whose brainchild is now sponsored by a number of church entities, including the Columbia Union Conference, Kettering Adventist HealthCare (KAHC), Washington Adventist University and the North American Division (NAD) Church Resource Center. 
In an interview about the event, Attiken explained his perspective: "It has become clear that, except among immigrant groups, the Adventist Church in North America has become ineffective in its mission. Methods that served us well a few decades ago no longer appeal to the majority of the population. A group of us felt impressed to create a forum for learning and exchanging creative ideas," he told Spectrum magazine. 
This year's forum drew pastors, educators, healthcare administrators, university students, lay leaders and church administrators who engaged in roundtable discussions, shared ministry ideas and heard keynote addresses by several nationally known thought leaders, including Barbara Bradley Hagerty, an award-winning religion correspondent for National Public Radio. She talked about the search for the science of spirituality, the topic of her recent book. Zack Plantak, chair of the Religion Department at WAU, was also among the speakers. 
A highlight of the event is a banquet where the NAD Church Resource Center recognizes the Innovative Church of the Year and Kettering Adventist HealthCare presents the Innovation of the Year award. This year both awards were bestowed upon the Hollywood (Calif.) church pastored by Ryan Bell.
Lonnie Melashenko, KAHC's vice president for Spiritual Services and Mission, lauded their "One Mile Mission" project, while the NAD applauded the innovative approaches to outreach. 
Learn more about the Conference at http://www.sdapartnersininnovation.org/.