Pennsylvania Hispanic Youth Text God's Grace
October 20, 2010 ∙ by owetmore ∙ in Pennsylvania Conference, Noticias
Story by Tamyra Horst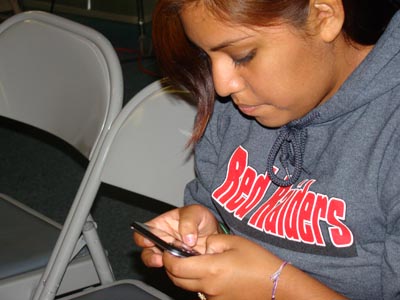 More than 150 young people who attended the Hispanic Youth Festival were not only reminded that God has offered His grace and love to them, but texted that grace to their friends. Pastor Piro Guzman, from the Texas Conference, challenged teens to share the phone number of a friend who needed to know God's love. Each teen led a group prayer for their friend and then everyone with cell phones sent a text message to that person. 
The weekend event also offered opportunities for young people to write down their questions about God, serving Him and being a Christian, and get answers. Pastor Juan Lopez, Pennsylvania Conference Hispanic Ministries coordinator, planned this event as an opportunity to disciple young people as they not only grow in their relationship with Christ, but learn to share the gospel with others. 
Fourteen-year-old Meylin Tremols, from the Shalom mission group, is already sharing the gospel with others. Seven young ladies were baptized as a result of her small group Bible study. The young people have started a worship service in English while the adults worship in Spanish. Watch their entire story via video in your local church or on paconference.org. Find more pictures from the Hispanic Youth Festival on Facebook, facebook.com/PennsylvaniaConference.