Frank Hale, Civil Rights Pioneer, Dies
August 01, 2011 ∙ by cmckenzie ∙ in Columbia Union News
Story Courtesy of Oakwood University Public Relations
Pictured below: Frank Hale Jr., PhD, spoke during the ceremony in which he was inducted into the Ohio Civil Rights Hall of Fame.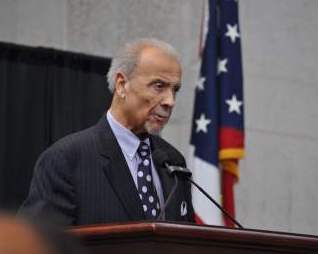 Frank Hale Jr., PhD, (84) a beloved member of the Allegheny West Conference's (AWC) Ephesus church in Columbus, Ohio, died last Wednesday after an extended illness.
"The Allegheny West Conference was blessed to have had a stalwart giant in educational, civil rights and our denominational community in our midst," said Robert Moore, AWC executive secretary. "There will be a void of his leadership, wisdom and community influence. He will be greatly missed in our conference territory."
A native of Kansas City, Mo., Hale completed elementary and secondary schools in Topeka. He graduated from the University of Nebraska where he was awarded bachelor's and master's degrees in Communication, Political Science, and English in 1950. He received his Ph.D. in Communication and Political Science from The Ohio State University in 1955. He was a British Council postdoctoral fellow in English Literature at the University of London in 1960 and holds several honorary doctorate awards.
Serving in the field of higher education for 54 years (1951–2005), Hale has held full professorships at Central State University (Ohio), Oakwood College (Alabama) and The Ohio State University. He served as chairman and professor of the Department of English (1959-1966) at Central State University (Ohio). Before coming to Ohio State, he was president of Oakwood College (1966-1971) in Alabama. From 1971-1978, he was associate dean and chairman of the Fellowship Committee of the Graduate School of The Ohio State University. Hale was appointed vice provost for Minority Affairs in 1978, a position, which he held until his retirement from Ohio State in 1988. He also served as Special Assistant to the President of Kenyon College from 1989-1992. In the summer of 1995, he was visiting professor of Communication at the University of Nebraska-Lincoln. He was appointed Distinguished University Representative and Consultant in the president's office at The Ohio State University from 1999-2005, and has been named a professor emeritus. Last year he was inducted into the Ohio Civil Rights Hall of Fame.
He leaves behind his wife, Mignon; son, Frank Hale III; and daughters, Ifeoma Kwesi and Sherilyn Wilkins.
Bryant Taylor contributed to this story.