Hyattsville Church Featured in Historic Community Tour
June 21, 2011 ∙ by cmckenzie ∙ in Potomac Conference
Story by Nadia McGill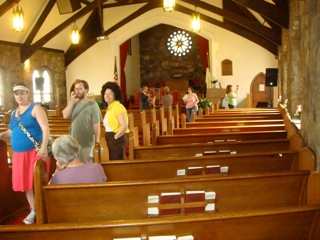 The Hyattsville (Md.) church recently took part in the 32nd Annual Historic Hyattsville House Tour, an event hosted by the Hyattsville Preservation Association, Inc. (HPA) to showcase the city's most beautiful and historic buildings. 
According to Kimberly Schmidt, a member of the HPA Board of Directors, the Seventh-day Adventist Church was selected as a participant for the tour because of its physical allure and high level of architectural integrity. "The church has these gorgeous, stained-glass windows, a rich Gothic style and beautiful stonework, both inside and out," she explained. "It's just a very unique church." 
Built in the late 1930's by Ronald Senseman, a prominent Adventist architect, the church is best known for its stained-glass windows, designed by T.K. Martin, the art director at the Review and Herald Publishing Association, based in nearby Takoma Park, Md., at that time. Each window portrays a different Adventist doctrine or biblical narrative, including the Second Coming, the seventh-day Sabbath, and the state of the dead. 
"I have never seen such beautiful windows anywhere," noted Marilynn Powell, a lifelong member whose parents were charter members of the church. "People were really thrilled at the church's beauty."
The tour, which took place in May, featured several other prominent Hyattsville buildings, as well as the church, where leaders hosted some 300 guests. 
"All of our members were very excited to take part," said Pastor Ebenezer Samuel. "They did a great job of welcoming our visitors, and taking care of them."
Taking full advantage of the occasion, members of this Potomac Conference church used the opportunity to tell their neighbors about Seventh-day Adventism, distributing gift bags stuffed with bottles of water, information on the Adventist faith, vegetarianism, healthy living and other freebies.
"[The event] went very well," concluded Powell. "Everyone seemed to really enjoy themselves; we would love to take part in an event like this again."
The Hyattsville church, which can seat over 200 people, is located at 4905 42nd Place. To learn more, visit hyattsvillesdachurch.com.