Memorandum of Understanding
March 10, 2011 ∙ by cwhittingham ∙ in Allegheny West Conference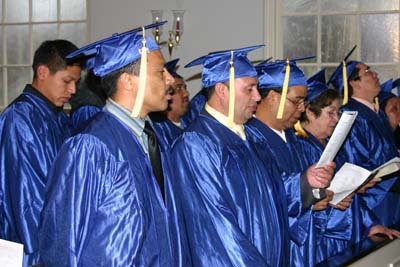 Story and photos by Celeste Ryan Blyden​
"Haz de mi un discipulo,
Haz de mi un discipulo,
Haz de mi un discipulo,
Quiero hacer tu voluntad."
As they marched down the center aisle of the baby blue carpeted Worthington Adventist Academy chapel, they sang the chorus over and over and louder and louder until even the audience joined their joyous call, "Make me a disciple."
The newest graduates of the Columbia Union School of Discipleship, 40 strong and wearing royal blue caps and gowns, are members of Spanish-speaking churches across the state of Ohio. Despite the rainy Sabbath afternoon, they made their way to Columbus, Ohio, to receive the certificate they worked three years to complete.
Ruben Ramos, Multilingual Ministries director for the Columbia Union Conference, created the school in partnership with the Hispanic Department of the Seventh-day Adventist Theological Seminary at Andrews University (Mich.). He says students who enroll in the program are required to hold small group Bible studies in their home as part of their training. Since he came to the Columbia Union in 2007 and launched this initiative, 445 students in four conferences---Allegheny West, Chesapeake, Ohio and Pennsylvania---have completed the curriculum and become disciples. "We've also started seven churches as students grow their small groups into church plants," Ramos explains.
Fanny Pabon is one of them. An Adventist member for 11 years, she says that it wasn't until she enrolled in the program three years ago that she started actively sharing her faith and working for the Lord. "It's the best thing I've ever done," she beamed after receiving her diploma. She grew a small group in her home into a church plant called El Buen Redil (The Good Flock) Seventh-day Adventist Church. About 40-50 people now attend Sabbath services at a rented church right by Port Columbus International Airport.
Walter Castro, Multicultural Ministries director for the Allegheny West Conference, is pleased to see how God is using Pabon and blessing her efforts. "It's changed her life, her marriage, her family—everything," he said. He's also pleased to work with Ramos because, in addition to changing the lives of students like Pabon, the program is enhancing ministry in his territory. Three new Spanish churches have been birthed in Columbus alone, two for Allegheny West and one for the Ohio Conference under the leadership of Oswaldo Magana, Hispanic Ministries director. And with this batch of graduates coming from Akron, Cincinnati, Cleveland, Columbus, Dayton, Hamilton, Springfield and Worthington, both leaders expect more growth.
That's why, at the end of the graduation where Eduard Schmidt, associate director of the North American Division Evangelism Institute, gave the keynote message, family and friends who gathered to cheer on the new disciples, were invited to enroll in the next School of Discipleship class. Some 55 volunteered but they didn't have long to get ready. The class started the next day.
Photo: Graduates of the Columbia Union School of Discipleship