A New Lighthouse Shines in Virginia Beach
August 11, 2011 ∙ by cwhittingham ∙ in Potomac Conference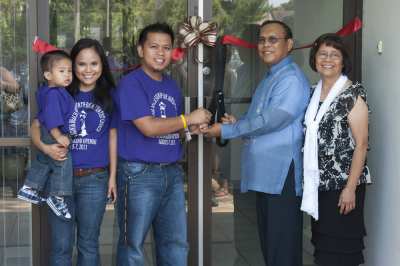 Story by Norman C. Belleza; Photos by Michael Sarino​
After 20 years of meeting for worship in places they could not call home, last weekend members of the Potomac Conference's Virginia Beach (Va.) church celebrated the purchase of their own church building. Visitors from the community and over 10 sister churches in California, West Virginia, Maryland, Florida and North Carolina joined them for the grand opening ceremony. The sanctuary, lobby and hallways were standing-room-only when attendance soared to over 400 during the divine hour of worship.
According Mark Sigue, the church's pastor, celebrating this building at 4136 Holland Rd., was significant because, "this church is the first Adventist-owned church in Virginia Beach, which has a really large population of non-members of our church."
Dan Jensen, assistant to the Potomac Conference president for Communication, was the guest speaker and he spoke to the weekend's theme of "God's Defining Moments: Peace Within the Dark Night of the Soul." Guest musicians came from Filipino Capitol church in Beltsville, Md.; the Canubas family and friends formed a string quintet from Maryland; and Kaydee Ann King from northern Virginia rendered a gorgeous solo Sabbath afternoon. The church also witnessed the rebirth of the Angklung Youth Ensemble as they played "In the Garden-Medley."
"My chest is overflowing with joy. I can hardly contain my pride and excitement in worshipping in our new church," exclaimed Abbey Reyes, the church's former pastor, as he reminisced on the church's 20-year journey.
"Today is truly a new day for Virginia Beach Seventh-day Adventist Church!" proclaimed Sigue, the church's new pastor. "Having a facility to our own allows us to grow local ministries and not be held hostage to facility availabilities to host programs, ministries and services. By having this facility, we are able to now be the lighthouse in town as has been the church's mission."
The festivities continued on August 7 with a Sunday brunch and the official ribbon-cutting, kitchen dedication and dedicatory prayers for church members. The group of more than 100 attendees released purple balloons into the bright blue skies. For members each balloon symbolized letting go of the past and moving forward in their new church home.
Photo: The new pastoral leadership and former pastor take a moment to enjoy the official opening of the new Virginia Beach church building.  From left, Marco Sigue, Marifel Sigue, Pastor Mark Sigue, former Pastor Abbey Reyes and Angelina Reyes.