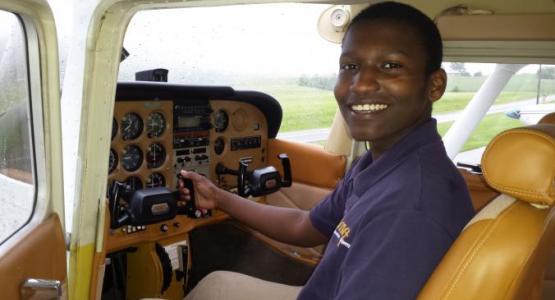 Campus Offers Aviation Program, Pilot License
August 02, 2017 ∙ by owetmore ∙ in Pennsylvania Conference, Education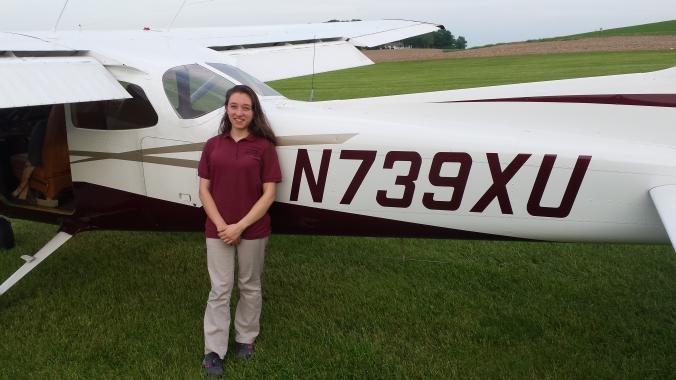 Story by Dave Morgan
Blue Mountain Academy (BMA) has offered its students flight training since the early 1970s. In the aviation program's nearly 50 years, 80 students have earned private pilot's licenses, and many more have completed training from discovery flights, soloing and cross-country trips.
The aviation program's main purpose is to increase student opportunity and to advance the Lord's work. Junior Iliana Dialectakis says, "I joined the aviation program here at BMA because my desire is to be a missionary. Being founded on the grounds of mission aviation, I find [BMA's] setting for learning is fantastic."
BMA owns a 2,800-foot runway, and through a new relationship with Training Mission Aviation, a non-profit organization, students now have easy access to flight train in a Cessna Skyhawk.
BMA has also offered ground school since the late 1960s. In preparation for the Federal Aviation Administration private pilot written exam, this classroom portion of aviation training teaches the principles of aerodynamics, aircraft systems, weather, rules and regulations, navigation and human factors involved in flying.
Eric Engen, BMA's IT director and music teacher, also teaches the ground school. Engen grew up listening to stories of Adventist missionary pilots. When he joined BMA in 2002, he watched the school's airplane take off and land every Sunday and realized this was the perfect opportunity for him to fulfill his childhood dream of flying. He received his private pilot's license at BMA in 2006, and continued his training at local airports, earning his instrument rating and commercial pilot certificates. In 2015 he went to Andrews University (Mich.) to earn his certified flight instructor certificate. Now he teaches BMA students how to fly.
"Mr. Eric Engen is very knowledgeable, patient and professional. I have been inspired to strive for high standards in this profession," shares Dialectakis.
"The program here is designed to teach you skills and encourages you to gain experiences that will prepare you for more awesome experiences after school. It requires strict discipline both in detail and in accuracy, as well as a love for aviation!"
Various BMA aviation alumni have been mission pilots in Guyana, are airline or corporate pilots and are flight instructors or aviation mechanics for universities or private flight schools. Many others do not work in the aviation industry but still independently fly.
Engen says, "Having a pilot's license opens many doors and broadens students' horizons in private life and future business."