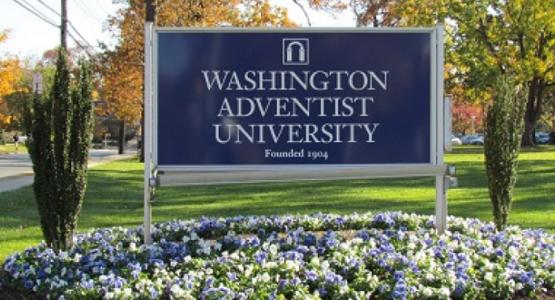 Middle States Commission on Higher Education Reaffirms Accreditation of Washington Adventist University
December 01, 2017 ∙ by rbacchus ∙ in Washington Adventist University
Story by Washington Adventist University Staff
At its November 2017 session, the Middle States Commission on Higher Education (MSCHE) reaffirmed the accreditation of Washington Adventist University (WAU).
During the process that revised the Middle States Commission on Higher Education's Statement of Accreditation Status, the body recognized WAU for progress to date on several recommendations and suggestions to address concerns and improve the institution in key identified areas. The University has been accredited by MSCHE since 1942.
"This is a big deal," said WAU President Weymouth Spence, Ed.D.  "The Middle States Commission's commendations for expanding student services and maintaining the financial health of the institution during difficult economic times reflects the hard work and dedication of faculty and staff of Washington Adventist University. We are justifiably proud of our reaccreditation."
MSCHE also highlighted WAU's development of a robust and evolving assessment system that evaluates the University's effectiveness in many areas and helped address areas of recommendations generated at the last site visit.
The Commission's action represents the University's last Periodic Review Report. And, while Middle States' new annual process will call for continuous improvement, the accreditors did not make additional recommendations for WAU to address any specific issues. The full Statement of Accreditation Status is available online. The next evaluation visit is scheduled for 2021-2022.
The MSCHE accreditation comes on the heels of a positive report from another accrediting agency, the Adventist Accrediting Association (AAA). As a result of a November visit by the AAA's Interim Visiting Committee, Washington Adventist University was commended for having placed among the top nine colleges by the 650-plus member Council of Independent Colleges, for adopting procedures to enhance the quality of online programs, and for WAU's "commitment to the mission of the church that has translated into 97 baptisms and wide spiritual influence on young men and women associated with the university." The interim committee report must be ratified by the full Adventist Accrediting Association.
                                                                           #  #  #
Washington Adventist University is Montgomery County's only four-year private college. Part of the Seventh-day Adventist system of higher education, Washington Adventist University has been educating college students since 1904 on a 19-acre campus in suburban Takoma Park, close to the nation's capital. Approximately 1,100 students of all faiths participate in the university's nine graduate and 42 undergraduate programs. The 2017 edition of U.S. News & World Report ranked Washington Adventist University among the best regional colleges in the north.