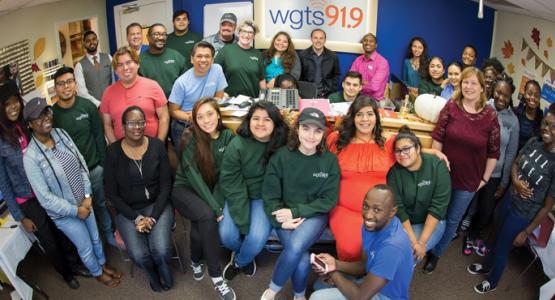 WGTS 91.9 Celebra 60 Años de Servicio
November 02, 2017 ∙ by vmbernard ∙ in Washington Adventist University, Noticias, This Month's Issue

Historia de Personal de WGTS
El 8 de mayo de 1957, en el sótano del hogar de varones en el campus del entonces Colegio Misionero de Washington, WGTS 91.9 comenzó a emitir en un transmisor de 10 vatios, cubriendo apenas una milla cuadrada en Takoma Park, Md. 
Las letras—WGTS—se hicieron eco del lema de la universidad "Gateway to Service". 
"Los estudiantes de la Universidad Adventista de Washington aún trabajan en WGTS 91.9, tal como lo hicieron en 1957 cuando salió por primera vez al aire", dice Kevin Krueger, actual gerente general. "La tutoría, la capacitación y la educación de los estudiantes universitarios sigue siendo una parte importante de nuestra misión".
Al principio la estación funcionaba algunas horas al día y crecía, gracias a generosos donantes y al tiempo y el talento de los gerentes Joe Spicer, Don Martin y Ed Henkel. A lo largo del tiempo, la estación se trasladó de ese pequeño sótano a los estudios que tiene hoy, y ha aumentado el poder y extendido su alcance. Don Wheeler, que se convirtió en gerente general en 1980, dijo: "Nos enorgullecemos de nuestro formato, que llamamos programación para la persona completa. Nuestros programas se ocupan de los aspectos mentales, físicos y espirituales de la vida. Y estamos aquí para alcanzar las almas para Cristo".
John Konrad, que comenzó como un estudiante trabajando de operador en la noche y se convirtió en gerente general en agosto de 1996, cambió la estación a un formato de música cristiana de inspiración. Tras la muerte de Konrad en 2013, Doug Walker se desempeñó como gerente interino. 
Kevin Krueger vino de KGTS 91.3 para manejar WGTS 91.9 en el otoño de 2013 y actualmente dirige el equipo. 
La estación ahora transmite a 550.000 oyentes cada semana y alcanza a oyentes a través de eventos especiales, tales como conciertos e iniciativas "Hands and Hearts", incluyendo colecta de útiles escolares y juguetes para las fiestas, patrocinando filtros de agua y ministrando a los residentes de Central Union Mission.
A través de las décadas, el hilo común de servir a Washington, D.C., y compartir a Cristo siguen siendo fuertes hoy, dice Krueger.
Read the story in English here.