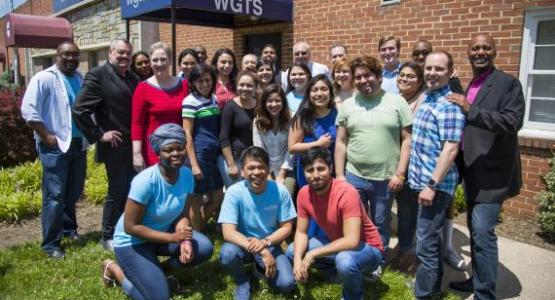 WGTS 91.9 Listeners Fund the Ministry
May 22, 2017 ∙ by vmbernard ∙ in Washington Adventist University
Story by Jerry Woods
Once again WGTS 91.9 listeners showed their support by being a part of the station's spring fundraiser.   Over 3,300 listeners stepped up to contribute more than $1.1 million dollars to keep the listener-supported ministry running strong.
This was the first WGTS fundraiser for the new afternoon team of Johnny and Stacey Stone, and they shared their thoughts on the experience.
"The pre-preparation for this event is unlike any other I've seen in my career of fundraising," says Stacey.
 "In talking to the listeners, there is such a sense of family between the WGTS staff and the listeners. Their generosity and understanding of how God uses WGTS is simply amazing," shares Johnny.
"What struck me about this fundraiser was the depth of the stories. Our listeners are facing so many tough situations. It's truly humbling to be part of a ministry that's telling  listeners they can make it and pointing them to the source of hope each and every single day," says Kevin Krueger, general manager.
WGTS has been serving Washington D.C. and its surround communities since 1957.  The ministry invites listeners financial support three times a year; once in the spring, fall and at the end of the year.