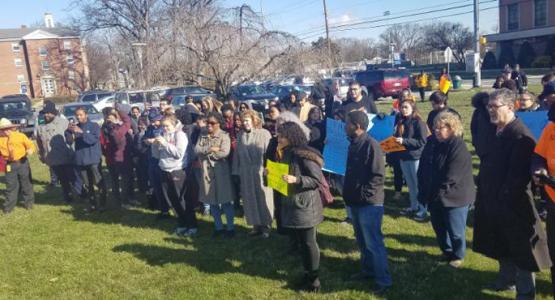 Adventist Students Join 17-Minute Walkout for School Safety
March 15, 2018 ∙ by vmbernard ∙ in Columbia Union News, Washington Adventist University, Education
Story by Doug Walker and Visitor staff
More than 100 students, staff and faculty from Washington Adventist University (WAU) in Takoma Park, Md., braved stiff wintery gusts to participate in the National School Walkout marking one month since the shooting that took the lives of 15 students and two staff members at Marjory Stoneman Douglas High School in Parkland, Fla. They were among students from across the Columbia Union Conference and elsewhere who participated.
Led by WAU Education students—themselves preparing for the teaching profession, the WAU students and employees spent 17 minutes on the University Commons—one minute for each of the Florida shooting victims. WAU students Josephine Burge, Jennyfer Gonzalez, Ashley Laing, Oto Njovu, Chloe Pettit and Brooke Tucker reminded participants that parents have the right to send their children to school in the morning and expect them to return home safely at the end of the school day. They also called on Congress to address the ongoing crisis of repeated mass shootings in the U.S. Since January there have been at least seven firearm incidents in the country.
After 17 minutes of prayer, short messages, moments of silence and chants, WAU students returned to their classes, and then on to the weekly Chapel service.
Students from other schools, such as Chesapeake Conference's Spencerville Adventist Academy (Md.), Allegheny East Conference's Pine Forge Academy (Pa.) and Dupont Park Adventist School in Washington, D.C., held similar events.
As reported on their Facebook page, upper grade students from Chesapeake Conference's Atholton Adventist Academy in Columbia, Md., gathered to pray for "strength and wisdom to stand up in situations where others are hurting or may be socially isolated and make a difference for that person."