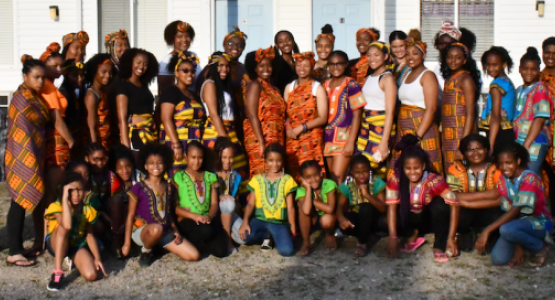 Alleghey West Conference Youth Celebrate Cultural Heritage/Awareness Day
November 28, 2018 ∙ by Web Administrator ∙ in Allegheny West Conference
Story by Bryant Smith
Youth Ministries leaders recently introduced their first Cultural Heritage/Awareness Day at Camp Adena in Thornville, Ohio. The morning began with a presentation by Ronnie Vanderhorst, author and co-founder of Prepare Our Youth, an organization dedicated to providing for the educational, social, emotional, cultural and spiritual needs of youth, families and communities. Vanderhorst shared a group message on "The Power of Purpose," then spent one-on-one time with the older youth, talking with them about their transition into adulthood.
In the afternoon, attendees tried on—and got to keep—traditional African attire, giving them a feeling of their cultural heritage. As they entered the banquet hall in traditional costume to enjoy the cultural heritage feast, many say they felt a sense of connection with history.
Students enjoyed a southern-style meal, and a program consisting of cultural dance instruction, spoken word and worship. Each camper received a certificate inscribed with an African name and meaning chosen especially for them, and, as a keepsake, a personalized picture of them in their native dress. The evening concluded with a fireworks display.
"I have never experienced anything like that," says camper Alena Valles. "The speaker made me really think about the difference I can make in the world around me. It was really cool to dress up in our cultural outfits. We all felt beautiful." Another camper adds, "It really made us look and feel like royalty."
Jason Ridley, Youth Ministries director, explains, "The idea behind this Cultural Heritage/Awareness Day was to show our youth that they are special, that [to be] black is beautiful and they truly are royalty. We wanted our youth to know that with God in their lives and knowing who they are and where they come from, there is no limit to what they can and will become in this life."