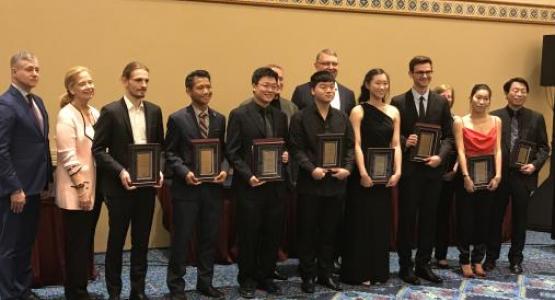 Outstanding Washington Adventist University Musicians Make Their Mark
June 20, 2018 ∙ by vmbernard ∙ in Potomac Conference, Washington Adventist University, Education
Story by WAU Staff
It's been a big year for Washington Adventist University (WAU) graduate Jidong Zhong.
Jidong, the son of a Seventh-day Adventist minister in Beijing, showed early promise, winning international piano competitions by the age of twelve. His parents, Linda and Nathan Zhong, wanted him to attend a Christian secondary school, but that was not possible in China. They first made arrangements for Jidong to study in Washington state, then, with the help of Ruth and Nikolaus Satelmajer, Jidong traveled across the U.S. to Washington, D.C., to attend Potomac Conference's Takoma Academy (TA) in Takoma Park, Md.
With just a year of English under his belt, Jidong finished his four years of academy in three years—ranking at the top of his class. It was at TA that Daniel Lau, now WAU Music Department chair, discovered him. Supported by WAU scholarships including the John Chang Scholarship Fund, Jidong graduated from WAU in the class of 2016 picking up not only top-of-class honors, but a bride as well, Ashley Butler, WAU class of 2014.
After completing a Master of Music degree this Spring at the Eastman School of Music Conservatory in Rochester, N.Y. on a full scholarship, Jidong keeps winning competitions. Setting the stage by winning a New York state competition and an Eastern regional contest in West Virginia, Jidong took home a $5,000 prize winning the Music Teachers National Association Young Artist Piano Competition in Lake Buena Vista, Fla. Please keep Jidong in your prayers as he commences doctoral studies this Fall.
WAU staff also congratulate two current piano majors, students of professor Mark Di Pinto. Aleksandra Velgosha and Beatrice Serban earned first and second place respectively in the Maryland State Music Teachers Association's annual Elizabeth R. Davis Memorial Piano Competition held in April at WAU's Leroy and Lois Peters Music Center. The distinguished judges were Larissa Dedova and Charles Timbrell, professors of piano at the University of Maryland School of Music and Howard University (D.C.), respectively. Velgosha received praise for her "very impressive, powerful performance," while Serban was congratulated for her "very serious and honest rendition of the work."
"These wins are a really big deal for us," Lau says. "Our instrumental and vocal ensembles receive a good deal of acclaim, and deservedly so, if I may say so. But this is a nice validation of the work we do with our individual performance majors."