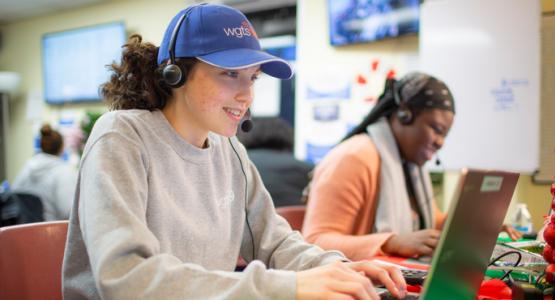 WGTS 91.9 Listeners Push Station Over the Year-End Fundraising Goal
December 17, 2018 ∙ by vmbernard ∙ in WGTS
Story by Jerry Woods
WGTS listeners helped the ministry end 2018 strong with a successful year-end fundraiser. Over the course of the four-day event, over 2,000 listeners took the station to more than 110 percent of the total goal. In addition, listeners also helped to provide over 26,000 meals to people in the Washington D.C. area through local food banks.
"I am awe struck by the multitude of ways God is working in the lives of our listening audience. Stories of encouragement and answers to prayer, outright miracles are common place. And they have responded yet again by sacrificial gifts to keep this ministry viable. It truly is a God thing," says WGTS Chairman of the Board and Executive Secretary of the Columbia Union of Seventh-day Adventists Rob Vandeman. "WGTS continues to reach people in need of hope and nudge them closer to Christ. It is evangelism in its most elemental form. Congratulations to the staff on another successful year-end fundraiser and thank you to all who support this ministry with your gifts."
"Once again we're overwhelmed by the generosity of the WGTS family. As WGTS grows and expands in 2019, we're looking for new ways to reach more people with the message of hope and encouragement. This fundraiser was the listeners' vote of confidence that they like the direction that their ministry is heading," says WGTS President and General Manager Kevin Krueger. "In addition to fundraising to be able to share over 26,000 meals with people struggling in D.C. really is at the heart of who we are as a ministry. It's our goal to have everything we do, both on and off the air, impact our community for Christ."
WGTS 91.9 is a ministry of Atlantic Gateway Communications, an affiliate of the Seventh-day Adventist Church, which has been serving positive messages to the Washington D.C. area since 1957. The station is planning an expansion and a move to a new facility in the middle of 2019.