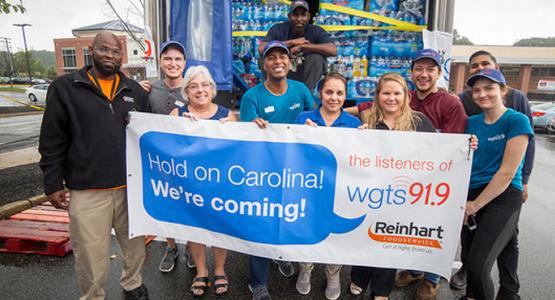 WGTS Spearheads Hurricane Florence Relief
September 18, 2018 ∙ by vmbernard ∙ in WGTS, Columbia Union News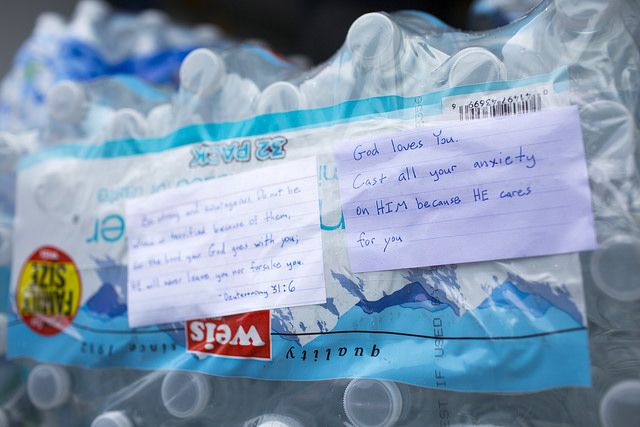 Story by Jerry Woods
WGTS 91.9, a media ministry in the Columbia Union, spearheaded an initiative to help people suffering from the effects of Hurricane Florence in North and South Carolina. On September 17th, WGTS 91.9 teamed up with trucking company Reinhart FoodService. The company provided a tractor trailer and parked it in the parking of a Giant grocery store in the Washington D.C., suburb of Springfield, Va. From 6 a.m. until 7 p.m., the station invited people to bring by cases of water to be sent to help evacuees in both North and South Carolina. While the team at WGTS had hoped to fill one truck in 13 hours, so many listeners responded, a second truck had to be sent to be filled with water. By the time it was all done, both trucks were completely full with 35 pallets, which amounted to 96,000 pounds of water or 11,500 gallons.
"When we heard about the need on WGTS, we put out an APB to everyone to let everyone know to bring water to church on Sabbath. Members of the church stepped up, and I'm just here to deliver what they gave to help," says Brian Ducharme, a member of Potomac Conference's Leesburg (Va.) church.
WGTS staff then teamed with friends at His Radio in Greenville, S.C., who put them in touch with Harvest Hope Food Bank, who took the delivery of the water. They will start delivering the water immediately to the people who need it the most in both North and South Carolina.
"When two radio stations, a food service company, a food bank and hundreds of listeners all come together for a common cause you can't help but be amazed at how God can work through so many different groups of people," says WGTS General Manager Kevin Krueger.
WGTS afternoon show co-host Stacey Stone came up with the idea of the water drive when she heard different aid organizations saying that was one of the biggest needs.  "No one can quite understand the hopelessness that you feel when water is rushing up and threatening everything that you hold dear. Having survived three hurricanes, including Superstorm Sandy along with my husband Johnny, we have felt that loss," says Stone. "On top of that, the fear that your basic need of water is out of reach can paralyze you. WGTS 91.9 wanted to help address that fear and provide water for the families in the path of Hurricane Florence. Johnny Stone and I were happy to be a small part of this amazing team that made it happen. To God be the glory!"