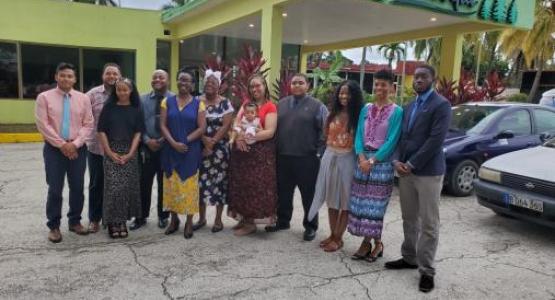 10 Young Adults Share Jesus in Cuba
July 02, 2019 ∙ by rbacchus ∙ in Allegheny West Conference
Story by Allegheny West Conference Staff
Earlier this year, the Allegheny West Conference Youth Ministries Department, sponsored in part by the Columbia Union Conference, partnered with the Young Adult Ministries Department on a once-in-a-lifetime mission trip to Cuba through ShareHim.
Ten young adults from across the conference territory, including Ohio, Pennsylvania and Virginia, had the opportunity to speak and share Jesus through 11 doctrinal sermons all across the city of Holguin and the surrounding towns. They were blessed to have their youngest evangelist on the trip, little 8-month-old Addie Joy, who accompanied her mother, Charde Hollins, AWC's Young Adult Ministries director on the trip.
This event was the first time most of the young adults had ever preached, and many of them had to travel great distances each evening with their translators to get to their destinations each night.
"[The trip] was a wonderful experience all around. I had the opportunity to travel to a different site each night, and I was able to see the power of God moving and using all of our young adults," says Jason Ridley, Youth Ministries director. "I was able to witness, not only the numerical growth that took place for the Seventh-day Adventist Church in Cuba, but also the spiritual growth that took place in the Allegheny West
Conference young adults, as well as through their willingness to be vessels used by God."
Following the last sermon, 82 people decided to be baptized, with another 83 taking their stand for baptism after Bible studies.