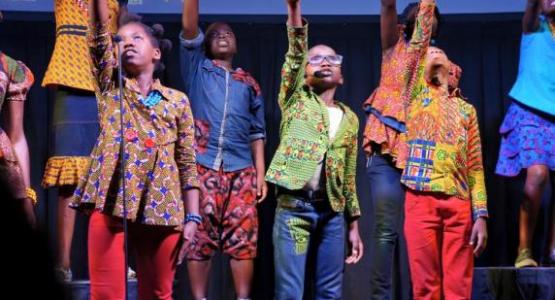 A Story of Resilience, Faith and Hope
August 22, 2019 ∙ by rbacchus ∙ in Allegheny West Conference
Story by Marc A. FeQuiere
The Watoto Children Choir from Uganda travels around the world, sharing their stories and praising God through the beautiful sound of African beats and melody. Watoto, Swahili for "The Children," is a ministry established in Uganda by Gary and Marilyn Skinner to help children, young people and women who are isolated by their society.
Some of these children are orphans or are living in difficult situations. Many have lost one or both parents, and they live in Kampala, a village in Watoto, Uganda. The choir started traveling in 1994, and covered six continents, performing in schools, retirement homes, hospitals, churches, state offices and even palaces.
Allegheny West Conference's Columbus Central church has been hosting the choir for the last three years, under the leadership of Clarice Williams, the church's Community Outreach director. They come each year to do a live concert for the church and community. Hundreds have attended their concerts, and this year was no different.
The Watoto Children Choir, through their songs and testimonies, speak on the violence and all the problems that other children in Africa and other parts of the world are daily facing. "Their moving testimonies always touch our hearts, and help us remember that poverty, hunger, violence against children are real, and there are millions of orphans ... who need a family and a place to live," says Williams.
The choir concerts are free, but they collect an offering at the end of each event to help them with their expenses and help other children from their village who are also orphans and living in extreme poverty.
Church members always assist in hosting the kids in their homes during their journey in Columbus. "We always enjoy the beautiful music from the Watoto Choir, but we also see our God is using them to share the love of our Lord and Savior Jesus Christ. They bring a message of hope to the hopeless, and their resilience in pain and hardships is a proof of their faith and commitment," says Williams. "Like the Watoto Children Choir who uses their voices and music to make a difference in others' lives, let us commit our talents and gifts to serve others and to bring glory to the name of our God."