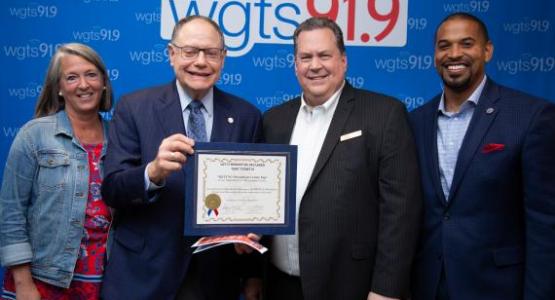 WGTS 91.9 Opens Brand New Broadcast Center
August 29, 2019 ∙ by rbacchus ∙ in WGTS
Story by Jerry Woods
After 62 years in the same Takoma Park, Md. location, WGTS is celebrating the grand opening of its new broadcast ministry center in Rockville, Md.
"This has been a dream decades in the making," says WGTS President and General Manager Kevin Krueger. "The way God has worked through listeners and givers to make this center a reality is truly a miracle. We're praying that the new ministry center is simply a launching pad to share the hope and encouragement that comes from Jesus with even more people in Washington, D.C., and beyond." 
At a recent open house event, Montgomery County councilmembers Sidney Katz and Will Jawando, as well as Rockville Mayor Bridget Newton, all welcomed the station to the area. They also presented a proclamation commemorating August 23, 2019, as "WGTS 91.9 Day" in Montgomery County, Maryland. 
"We're excited to welcome you to the neighborhood, and we look forward to finding ways that we can serve together," said Mayor Newton. 
A small group of special guests, politicians, supporters and their families came to the center for a mini-concert with artist Matthew West. After the concert, dinner was served, and the guests got a private tour of the facility. 
The new 13,000-square-foot facility contains two identical on-air studios, three production rooms and a television studio. It replaces the 3,000-square-foot World War II-era building that has served as the headquarters of the ministry since 1957. WGTS will maintain the majority of the Takoma Park facility as an emergency backup and special projects site.