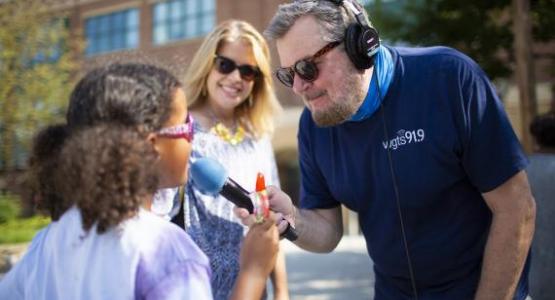 WGTS 91.9 Wraps Up Ice Cream Tour in the Heat
August 15, 2019 ∙ by rbacchus ∙ in WGTS
Story by Jerry Woods
There's been a whole lot of scooping going all summer long with WGTS 91.9. The station just wrapped up its fourth annual ice cream tour with a stop in Gaithersburg, Md. Johnny and Stacey Stone broadcasted live from the Kentlands Market Square Plaza in the center of the city. Other staff members served ice cream, played games and distributed prizes for four hours in the 101-degree heat.
"We were a little concerned that the weather would keep people away, but the heat didn't stop the WGTS family from getting together for the last ice cream only stop," said WGTS Morning Show host and promotions director Jerry Woods. 
Listeners also dropped off backpacks for the station's school supply drive for foster kids in Washington D.C. 
This year's ice cream tour is the largest to date. Throughout the summer, the station visited three states, six cities and served ice cream to more than 15,000 people. Pennsylvania's Turkey Hill Dairy provided the ice cream to the station to give to listeners.