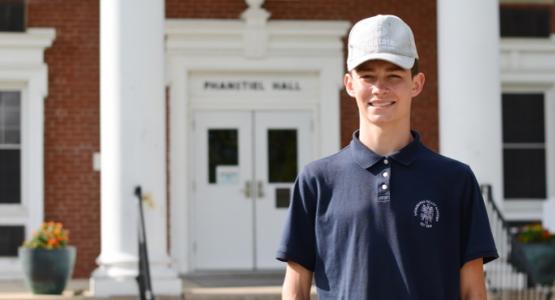 December 08, 2020 ∙ by Web Administrator ∙ in Coronavirus Pandemic, Potomac Conference, Education
Story by Jennifer LeVos Renton
Two weeks prior, sending my middle son, Sam (pictured), to boarding school 3,000 miles away from our home in Oregon never crossed my mind. I went to bed unsuspecting of what the night would bring. Little did I know, God was about to drop a "faith bomb." I tossed and turned and could not sleep. Did I accidently drink caffeine? Why can't I sleep? Then I realized God was trying to communicate with me. At 11:30 p.m. I got on my knees and started praying. An hour or two later, I jumped into the Word to figure out what God's message to me was, landing on Exodus 22:29:
"You shall not delay to offer the first of your ripe produce and your juices. The firstborn of your sons you shall give to Me" (NKJV). But Josh is our firstborn, I expressed to God. Why are you saying Sam?
When morning came, it was clear. I fell to my knees and sobbed. Really, God? This makes no sense. Sending our son to a boarding school on the other side of the country during a pandemic? And why Shenandoah Valley Academy (SVA)? There are boarding schools here. I don't understand.
I made calls to three different schools that day. Lord, if it is within Your will, is it OK to ask for a sign? May the school that offers to pray with me on the phone be the school.
SVA was the only school that offered to pray with me.
Wow, OK, God! But there is no way my son or husband will agree. Holding onto this promise, "'Not by might nor by power, but by My Spirit,' says the Lord of hosts" (Zech. 4:6, NKJV), God had a plan, and He was faithful to see it through. After conversations, phone calls and much prayer, Sam was very excited to go to SVA, and my husband agreed.
Sam started classes at SVA a week after the "faith bomb" dropped. I now realize this seemingly lastminute plan was anything but. Could it be the framework was laid the moment I stepped onto SVA's campus 25 years ago? Perhaps the answers to years of prayers are culminating in a beautiful story on the campus of SVA? The revelation might've been last minute, but certainly not the plan itself, for "everything is possible for one who believes" (Mark 9:23, NIV).