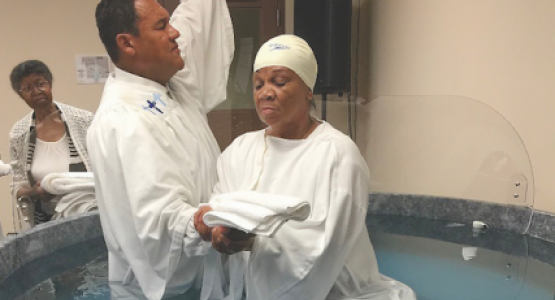 Dayton Church Baptizes 52
January 09, 2020 ∙ by rbacchus ∙ in Allegheny West Conference, This Month's Issue
Story by Benia Jennings
Allegheny West Conference's Dayton (Ohio) church ended their "Dayton's Revival" evangelistic series with 52 baptisms. During the 15 weeks, more than 75 sermons covered topics such as the state of the dead and the observance of the seventh-day Sabbath. As a result, many individuals were led to make the important decision to choose baptism.
"People were thrilled to know that God created the Sabbath out of a desire to spend the day with them," says Stephen D. Lewis, pastor. "We shared how much God loves them and that Jesus had paid for their sins. Now we focus on their next steps."
The new members will attend a weekly "How to Win Your Family" class. "Often after a person gets baptized and make changes in their lives, they end up isolating their families while trying to explain the reason for their decision," explains Lewis. "Instead of counseling them on how to explain their newly found faith to family members, we encourage new believers to tell them what God has done for them with joy, while inviting them to visit one of our services."
In 2020 new visitors, as well as church members, will be offered the opportunity to attend weekly cooking classes where they will learn healthful eating practices.
The Dayton church began another Revelation seminar this month.