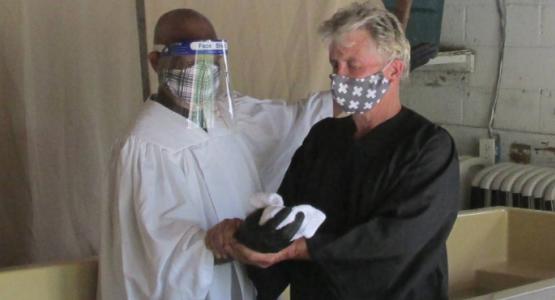 Emmanuel Hosts Drive-in Baptism, Communion
November 19, 2020 ∙ by Web Administrator ∙ in Coronavirus Pandemic, Allegheny East Conference
Story by LaTasha Hewitt
Recently, the Emmanuel Worship Center in Alexandria, Va., hosted a drive-in baptism and communion service. Pastor Robert Kennedy baptized three people in a temporarily installed baptistry in a garage on the property the church is renting.
Prior to their baptism, Kennedy studied with the baptismal candidates by Zoom and FaceTime. Once they expressed their desire to be baptized, Kennedy went to work to make this possible and to ensure safety protocols were in place and were conference-approved.
On the Sabbath of the baptism, the church held Sabbath School together virtually. At the end of the lesson study, Kennedy interviewed the candidates and called for their vote into membership.
With the joint effort from church elders, deacons and the Health Ministries team, the baptisms took just 43 minutes. "Even though physical distance had to be observed, one could feel the excitement of the members coming together to welcome and support those who were being baptized," says Kennedy.
Following the baptismal service, communion was held under a large tent. Attendees received prepackaged bread and grape juice emblems. This event "opened doors" for the church, as two others took their stand for baptism following the service.