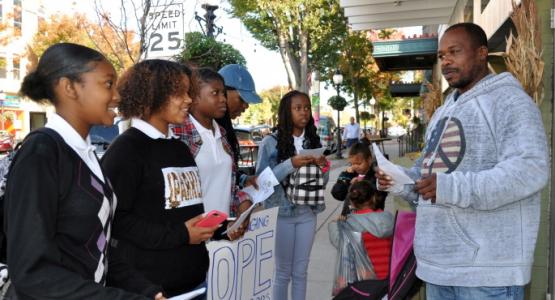 Pine Forge Academy Students Engage in Community Ministry
February 06, 2020 ∙ by Web Administrator ∙ in Allegheny East Conference, Education
Story by Stephen Richardson
Pine Forge Academy (PFA) took intentional steps this year to bolster its community presence by increasing service opportunities for students and providing resources for local community organizations.
Shortly after the school year began, PFA students responded to a call for volunteers at a local community food drive held in Boyertown, Pa. The event honored the memory of a local 9-year-old boy and his mother (who was eight months pregnant) who tragically lost their lives in a flash flood in July. The first annual Preston's Pantry Food Drive saw a massive community response in donated canned goods. PFA students unloaded vehicles that arrived at the donation site and helped sort collected items. The bereaved family expressed their appreciation to the students for their help.
Following an abbreviated Sabbath worship service last fall, PFA students, accompanied by church members, faculty and staff, divided into three groups. One group created sleeping mats for the homeless using plastic shopping bags donated by church members. The process involved cutting bags into strips, tying the strips together, then knitting them into a waterproof mat to insulate the individual from the cold ground.
A second group went to a local senior citizen's living center where they visited individual rooms and spent time with the residents. The seniors enjoyed the stories, songs and prayer time.
The third group participated in street ministry on the main street of Pottstown, Pa. A citywide family holiday event brought crowds of people out to stroll the sidewalks. PFA students formed into five bands that canvassed both sides of the street, introducing themselves to townsfolk and store owners. Each group distributed flyers, inviting the Pottstown community to a program later that week that featured the drama club and concert choir. Lastly, the students offered to pray with everyone they met.
More occasions are planned this year that will enable PFA students to share God's love, promote the importance of service ministry and boost the familiarity of and goodwill toward the school in the surrounding communities.