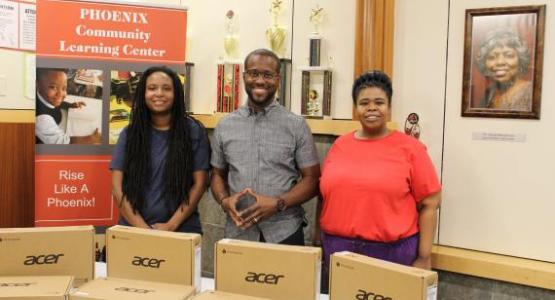 Shiloh Church Remains Mission-Minded
December 09, 2020 ∙ by JennaLettsome ∙ in Coronavirus Pandemic, Allegheny West Conference
by Benia Jennings
The Shiloh church in Cincinnati is like so many other congregations impacted by the worldwide pandemic. They have temporarily gone to a primarily online platform. However, they are learning to redefine what it means to "be a church" and "how to stay missionally- minded" in an ever-changing context.
Bryant Smith (pictured), pastor of Shiloh, has been intentionally taking the church on a journey to under- stand that, while in-person gatherings are on pause, the church belongs to a larger community that still needs the love of Jesus. In speaking with Glenda Brown, a local principal from the Phoenix Community Learning Center in the Avondale neighborhood, the church discovered there were many challenges facing children in returning to school.
"Many of the children in the area do not have access to Wi-Fi, computers and/or iPads to participate in dis- tance learning due to the pandemic," says Smith. "And the school does not have enough equipment to go around." Smith and Shiloh members decided to help, but with such a high demand for laptops nationwide, the outlook was bleak. Laptops were on back order at every store they called and wouldn't arrive in time for the school's September 8 start date.
After searching throughout the city, a member was able to locate some laptops. The church family was able to purchase 15 new laptops for the students. Smith presented them to Lauren McCoy (pictured, left), Phoenix's IT director and computer teacher, and Melissa Brown (right), operational principal.
"We are so extremely grateful for this," says McCoy. "We will never forget how Shiloh thought of us during this time." The church continues to build relationships and community partners in this new normal, as they show Christ to the world.