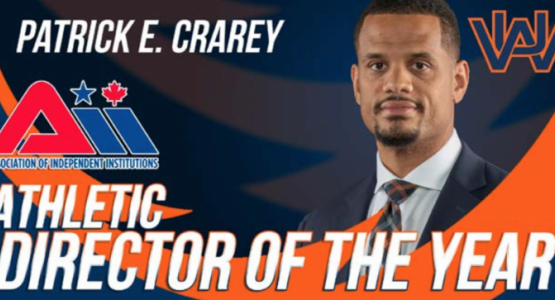 WAU's Patrick E. Crarey Named Association of Independent Institutions' Athletic Director of the Year
October 14, 2020 ∙ by vmbernard ∙ in Washington Adventist University
Story by Washington Adventist University (WAU) Staff
The Association of Independent Institutions, named Patrick E. Crarey, II 2020 A.I.I. Athletic Director of the Year. Crarey, in his tenth year leading W.A.U. Athletics & Men's Basketball has added another milestone in his legacy. It's the first time in W.A.U. history that an award of this magnitude has been given to a WAU athletic director.
The conference noted, "In Crarey's 10th year in this leadership position, Washington Adventist made a successful transition from NCAA DII to NAIA affiliation, the Shock qualified for A.I.I. postseason tournament events in women's soccer, men's basketball and women's basketball. Crarey earned the A.I.I. Coach of the Year award this winter after the Takoma Park, Md., based university had a Top-10 NAIA national ranking and No.1 seeding in the 2020 A.I.I. Championship Tournament. The team had a 23-9 record and represented the conference in the NAIA National Championship."
Crarey has guided the men's basketball team to four national tournament appearances, one USCAA National Championship, and one A.I.I. Conference Championship, and has produced several professional players during his tenure.
Notable Hires During Crarey's Tenure
Jerry McFarland - Hired by Crarey in 2018. McFarland has been a vital part of the Athletics Department. He ensures that all programs stay within budget guidelines, he manages student-professionals & game management and is a liaison for the business office.
Harry Thomas Jr. - Hired by Crarey in 2020. Coach Thomas as a staple in the D.C. Softball community, he brought a new connection for the softball program. The softball team was 1-1 before their season was brought to a halt due to the Pandemic.
Jered Lyons - Hired by Crarey in 2014 to lead the women's basketball program. Lyons has guided the squad to three consecutive winning seasons, five tournament appearances, and three semifinals. Coach Lyons led students on a mission trip to El Salvador. He is the longest-tenured and winningest coach in women's basketball program history.
Acro Airs - In Crarey's tenure, he has helped with two Acrofests (A gathering of Seventh-day Adventist Acrobat teams across the nation) in conjunction with Head Coach Ben Johnson. During Acrofest, countless meetings lead to this national event to ensure safety, logistics, and overall good experiences for the teams participating.
Coach Crarey
"I have been blessed to receive recognition throughout the years, but nothing can compare to this. This is the ultimate team award. This award is about all of our staff, coaches, and student-athletes. We work extremely hard to provide them with the best experience we possibly can. I am blessed to work at Washington Adventist University under the leadership of Dr. Spence. His support is what leads the way for our successes. Thank you to everyone at Washington Adventist University and the Association of Independent Institutions that made this possi- ble I am truly honored and humbled."