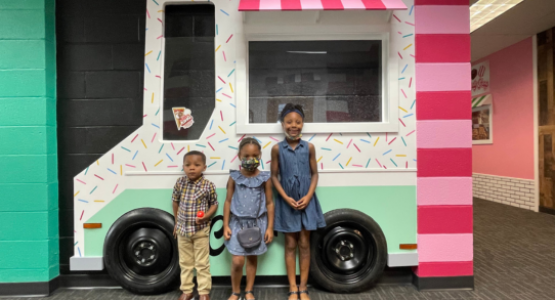 'Kids Town' Opens at New Hope Church
November 04, 2021 ∙ by rbacchus ∙ in Chesapeake Conference
Story by Evan Knott
"Wow! I can't believe you did this!" That has been the typical response of kids and parents when they see the newly renovated children's wing at Chesapeake Conference's New Hope church in Fulton, Md., for the first time.
"Kids Town" is a complete redesign of the children's Sabbath School hallway ("circles" at New Hope) on the church's second floor. The space has been reimagined to resemble an entire town featuring landmarks like a café, pet store, arcade, pizzeria, toy store, barber shop, farmer's market, ice cream truck and more.
Kids Town features interactive elements for kids to enjoy. There's a firetruck in the middle of the "street" that kids enter to use the water fountain. The renovated space also includes a repurposed ATM and plastic fruits and vegetables for kids to play with on the farmer's market stand.
"At New Hope, we really value families and children," says Marilyn Scott, church family pastor. "Because of the value we place on them, we're always trying to find ways to communicate that value. Kids Town is one of those ideas."
Mike Speegle, lead pastor, agrees: "We wanted to communicate to parents and kids—especially first-time guests—that kids are important to what we do. We want to exceed people's expectations. We want people to say, 'Wow! I didn't expect this from a church!'"