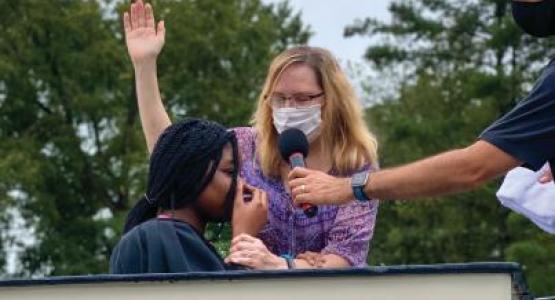 10 Join Ellicott City Church at Outdoor Baptismal Service
February 10, 2021 ∙ by vmbernard ∙ in Coronavirus Pandemic, Chesapeake Conference
Story by Fylvia Fowler Kline
Ten people recently joined Chesapeake Conference's Ellicott City (Md.) church, nine through an outdoor baptism and one through profession of faith. Among those baptized was Karen Santangelo, who had been studying the Bible with her aunt, and decided to search online for a nearby church. She discovered the Ellicott City church website and became a regular viewer of their online worship services.
Santangelo was familiar with the Seventh-day Adventist Church, as her family heritage includes both Catholicism and Adventism. When her mother passed away 17 years ago, Santangelo felt the need for something more. When her brother passed away five years ago, she felt even more determined to learn more about God.
"I had a lot of questions about death and other things, and the more I searched, the more I felt I was getting a step closer to God," says Santangelo. "I knew the stories from the Bible, yet all of it felt so new."
As she continued to study the Bible with her aunt, Santangelo was convinced she had found what she had been searching for all these years.
"How it all came together and how I happened to catch the announcement about an upcoming baptism was God's perfect timing. I felt convicted, and I just had to do it," she adds.
"It is wonderful to see that the Holy Spirit is always working in people's lives," says Paulo Macena, lead pastor of the Ellicott City church. "Only God could connect the dots in Karen's life in such a way that she couldn't resist His calling for baptism, even during a pandemic."
Read and share articles from the January/February 2021 Visitor: