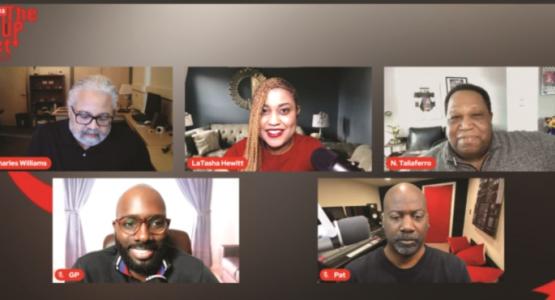 Allegheny East Conference Launches First Podcast
May 12, 2021 ∙ by Web Administrator ∙ in Allegheny East Conference
Story by LaTasha Hewitt
The Allegheny East Conference (AEC) recently launched its first podcast, The UpSet. The goal of the podcast is to provide conversation about current topics from a Christian perspective, emphasizing the importance of respecting differing opinions. Topics range from politics and social networks to the stock market and church life.
Hosts include (pictured, top row) Charles Williams, AEC media director; LaTasha Hewitt, AEC communication director; William "Nick" Taliaferro, pastor of the West Philadelphia church; (bottom row) Geston Pierre, assistant pastor of Church of the Oranges in New Jersey; and Patrick Graham, AEC youth director.
"We really wanted to create a fun and light space where we encourage dialogue—controversial or otherwise," says Hewitt. "I believe our personalities and life experiences offer varied opinions. The goal is never to be right, but to understand other viewpoints."
In the future, special guests will weigh in on different subjects, keeping the dialogue versatile and fresh. The podcast airs every Sunday at 6 p.m., on AEC's Facebook page (facebook.com/IamAEC) and YouTube Channel (AEC Media Ministries), and is also available on Apple Podcasts, Spotify, Google Podcasts and Stitcher.