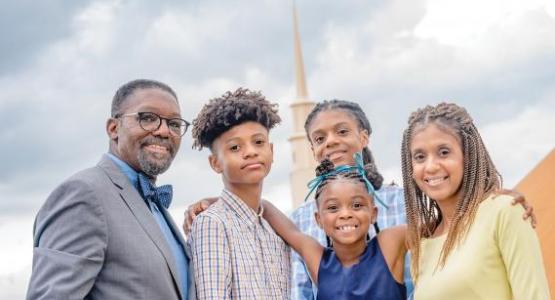 Allegheny West Conference Welcomes Goodman Family
January 25, 2021 ∙ by vmbernard ∙ in Allegheny West Conference, Education
Story by Benia Jennings
The Allegheny West Conference welcomes Keith and Evelyn Goodman, along with their three children, Keith Jr., Charles and Kaelyn. Keith recently accepted the call to serve as senior pastor of the Ephesus church in Columbus, Ohio, and Evelyn has stepped into the role of principal at Columbus Adventist Academy (Ohio).
A native of Oklahoma, Keith earned a Bachelor of Arts in Theology at Oakwood College (Ala.) in 1996, and later graduated from the Seventh-day Adventist Theological Seminary at Andrews University (Mich.).
From 1996–1998, Keith served as an intern at the Straford Memorial church in Chicago, under Charles Joseph, Sr. In January 1999, he joined the North Philadelphia church as the assistant pastor to William Hall, Sr., a position he held until 2006, when he was asked to serve as senior pastor. Keith also pastored the Macedonia church in Chester, Pa.
Ndubuisi Nwade, associate pastor at Ephesus, believes God has called Goodman to the church for such a time as this: "Pastor Goodman's arrival heralds the beginning of a new chapter for the church," Nwade says. "I believe his leadership will help steer us in the direction we all desire to go. He's very conscientious, very passionate. I'm looking forward to seeing what God is going to do through him and us."
Evelyn has more than 20 years of experience in education in both public and private sectors. She holds a Bachelor of Arts in Elementary Education and a Master of Education, with an emphasis in Special Education. She has served as a community leader in numerous capacities, and is skilled at team building, strategic planning and evangelism. In addition, Evelyn is a talented speaker, recording artist and songwriter.
Keith says, "Our coming to Allegheny West Conference has been a wonderful experience. I've found the administration to be very helpful and kind. [President] Brown has been a fatherly figure, very supportive, often offering words of wisdom. I appreciate coming in just shortly after his election and hearing his emphasis on civic responsibility. [Executive Vice President] Johnson was actually my dean when I was at Pine Forge Academy and has been a tremen- dous help in our relocation. [Chief Financial Officer] Jermaine Jackson is very competent with great follow-through. We were greeted very warmly by the church members, and I've enjoyed working with First Elder Ben Oyortey, in particular. I find the congregation at Ephesus to be very hardworking, very active and very passionate about ministry."
He adds, "What makes this particular assignment unique is that we know so many of the people here, either from Oakwood or Pine Forge. Also, Evelyn happens to have family members both by blood and by marriage living in this area."