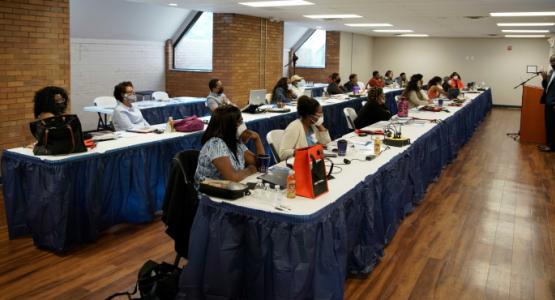 Conference Hosts Two-Day Education Retreat
November 15, 2021 ∙ by Web Administrator ∙ in Allegheny West Conference
Story by Benia Jennings
"Moving Higher and Better," the theme for the Allegheny West Conference (AWC) Education Department this school year, perfectly captures the enthusiasm and energy from the AWC teachers as they recently met in person at a two-day teacher's retreat.
Day one opened with a supplementary Three Angels Bible Training, presented by Sandy Doran and Yvette Cooper, curriculum/creative director and project assistant, respectively. This was followed by an in-depth Occupational Mental Health Wellness workshop, conducted by D'Andria Jackson, psychologist and founder of Epiphany Psychotherapy & Consultation, and Anna Keller, licensed psychologist with the same organization.
Day two featured the Lucy Calkins Literacy Training all-day workshop, conducted by Jeanne Marie Garcia, vice principal of Potomac Conference's Beltsville Adventist School (Md.).
"The literacy workshop was most enthusiastically received by all educators involved in the training," says Violet Cox, AWC Education Department director.
Featured presenter Donovan Ross, vice president for Education for the Columbia Union Conference, charged teachers to embrace change with positive enthusiasm as they "move higher and better" in finding ways to encourage their students.
Ross states that what he most enjoys about education is the students, their energy, enthusiasm and infectious joy. "I enjoy helping them have a personal encounter with Jesus and equipping them to become more productive citizens of this world," he says.
At the end of the training, several teachers remarked that the retreat provided excellent tools for educators and that they felt much more prepared. "As a teacher, I am always seeking resources and tools to improve my craft. In other words, my objective is to get as much as I can get so that ultimately my students benefit," says Tamaria Kulemeka, a fifth-grade teacher at Columbus Adventist Academy (Ohio). "This year's training equipped me with resources and tools I could implement right away to help my students soar and excel in reading and writing. For that, I am grateful!"
Evelyn Goodman, principal of Columbus Adventist Academy, adds: "This year's training was amazing in so many ways. First of all, I was able to meet my fellow conference school colleagues away from the computer screen and in person for the first time since having assuming my role as principal of Columbus Adventist Academy. I was encouraged, inspired and reminded of the tremendous responsibility we have to educate God's children. The pandemic has not stopped us; it's only fostered in us more determination, creativity and dependence on Christ—the ultimate Educator."