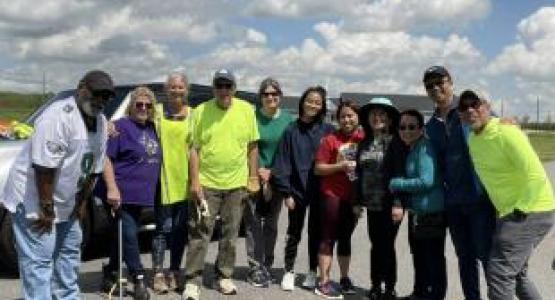 Far West End Church Members Beautify Community
October 13, 2021 ∙ by vmbernard ∙ in Potomac Conference
Story by Debra Anderson
Earlier this year, members of the Far West End church in Rockville, Va., went "beyond the walls" in ministry to help beautify their community. The group responded to a request from a local community member who needed help keeping the area around the church and beyond remain in pristine condition.
The group, consisting of youth to senior citizens, gathered early on a Sunday morning to pick up trash that had been discarded along the roadside. Member Lin Jones (pictured, wearing purple shirt) says, "We climbed through prickly branches to gather an amazing amount of trash, including a used battery ... and the seat from a tractor, just to name a few."
When community residents witnessed what they were doing, they joined the cleaning efforts. Others shouted thanks as they drove by in their vehicles.
This small but significant act of service allowed Junnie Ree Pagusan, pastor of the Far West End church, to introduce some community members to the church and its members.
Members say they enjoyed participating in the clean-up venture, and they want to do it again. Already involved in many local community activities, the Far West End plans to continue to seek ways to minister "beyond the walls."