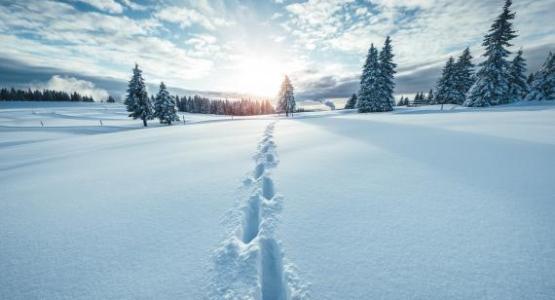 February 5, 2021: When Silence Speaks Louder Than Words
January 26, 2021 ∙ by vmbernard ∙ in Year of the Bible, Allegheny East Conference
"If only you could be silent! That's the wisest thing you could do"
(Job 13:5, NLT).
A few years ago, I ran across this scripture verse as I was studying the story of Job, and I taped it to the bottom lefthand corner of my computer screen at work. I purposely placed this text there so that, as soon as I got to work each day, I would be reminded about the integral role silence can play as I maneuvered throughout the workday.
Job's friends came to visit him at the lowest, darkest moment of his life. Their visit sought to bring comfort and companionship to their friend,
but their conversation did the opposite, stirring up confusion and blame. When Job could take no more, out of frustration he told his friends to shut up! Even though Job may have appeared abrupt in his response to his friends, he did not leave them without a compelling caveat, as he extolled the wisdom and virtue of silence.
In a world that embraces the intricate nuanced dance of verbalism, silence is often shunned. Words can be weaponized, and, at times, cause more harm than good. This verse reminds me about the importance
of being judicious in what is communicated, and that not everything
that comes to mind needs to be shared. Therefore, the sage application of silence can serve as a beneficial and wise tool in navigating the complexities of life. Every time I look at this scripture verse posted on my desktop, the Lord reminds me of Job's desperate cry for silence, and I vow to make it my choice to use my voice wisely.
Lord, help me to embrace the wisdom that can be found in the depths of silence. Amen.
Cheryl Osbourne Chavers is an elder at the Calvary church in Virginia.
Read more devotionals:
February 1, 2021: The Patient
February 2, 2021: Trust God
February 3, 2021: What Does it Take to Be a Hero?
February 4, 2021: A Lame Man is Healed
February 5, 2021: When Silence Speaks Louder Than Words
February 6, 2021: Plans That Included Me
February 7, 2021: From Test to Testimony
Join the Journey 
To help you dig deeper into God's Holy Word this year, we're offering:
Every Month—This calendar, themed "Words of Life," coincides with the devotional book and videos. It features a biblical topic and verse each month, with additional passages for further exploration, study and ideas on how to apply the concepts in your daily life.