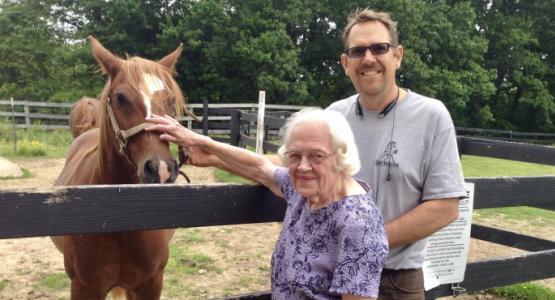 November 16, 2021 ∙ by Web Administrator ∙ in Ohio Conference
Story by Harry Straub
My late friend, Dave Robinson, was the Camp Mohaven director and pastor of the Delaware church in Ohio. He often had a time during his church service called the "God Showing Off Moment," where he and members shared God's recent blessings.
One Sabbath, Dave told a "God Showing Off Moment" story about things happening at the camp. In church that day was a lady named Betty Taylor, who became convicted to do something for the camp. The next week, Betty called me at the Planned Giving office. We talked about many options, and she settled on setting up a Camp Mohaven endowment to help maintain the facilities.
Betty had not been to the camp since the 1960s. On a nice, sunny spring day, I took her out to see what Pastor Dave had been telling his congregation. She instantly fell in love with the horses there.
Afterward, Betty asked, "What more can I do for the camp?" She wanted to see the endowment grow and be more of a benefit for generations to come. I told her we could do a matching campaign so that she wouldn't be giving all the money but others across the conference could help. Betty pledged $25,000 from her estate, hoping to encourage a full match through the campaign.
I visited her a couple months after we started this campaign, and she eagerly showed me her investment statement from the previous year. The increase on the account was $24,994.80! Betty and I just looked at each other, both teary-eyed. Of the $25,000 Betty stepped out in faith in pledging, the Lord only asked Betty to provide $5.20 out of her pocket!
Many times, we think of the Planned Giving departments of our conferences as dealing with somber moments in family's lives—and this is, indeed, a part of what we do. What gives us passion and joy, though, are the many stories like this in which God takes our few talents and turns them into many blessings for His kingdom. In the words of our dear, late friend, Dave, Betty's story is just one example of the extravagant abundance of our Father: God truly showing off! If we step out in faith, the Lord will provide. We just need to trust Him.