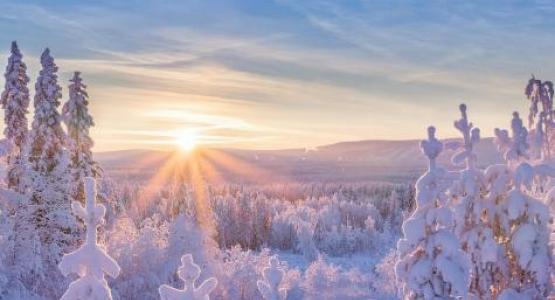 January 30, 2021: One Unforgettable Sabbath
January 19, 2021 ∙ by vmbernard ∙ in Year of the Bible, Ohio Conference
"Not giving up meeting together... but encouraging one another— and all the more as you see the day approaching" (Heb. 10:25, NIV).
In my 22 years of ministry, I have had many unforgettable Sabbaths, but none more so than in Delta Junction, Alaska. My wife and I were settling into our new subarctic district during the coldest part of the year. Delta Junction is located 90 miles southeast of Fairbanks and 250 miles south of the Arctic Circle. When we arrived, it was a "balmy" 16 degrees; by Thanksgiving, it had fallen to negative 38 degrees. My body adjusted quickly to these sub-zero temperatures, but nothing prepared me for what awaited that Sabbath morning in January.
The church was three miles from our parsonage. That Sabbath morning, our outdoor thermometer read -51 degrees! Surely no one would think of holding church at that unheard-of temperature. As the new guy in town, I thought I would drive over to the church to see if anyone was crazy enough to show up.
Sure enough, lights were on and members were having Sabbath School! I sheepishly entered and saw our head elder playing his accordion while leading 15 to 20 people in song. Seeing the new pastor entering slowly, a twinkle came to his eye, and he gave me a slight nod that seemed to say, "Happy Sabbath, Pastor, so glad you decided to join us!"
I don't remember what I preached on that memorable Sabbath, but I do recall about 35 people attended worship. The importance of church fellowship, particularly in worshipping together on His Sabbath, was reinforced that day.
Lord, thank You for brothers and sisters who so faithfully worship You in spirit and in truth. Amen.
Fred C. Shoemaker is the pastor of the Hillsboro, Middletown and Wilmington churches in Ohio.
Read more Devotionals
January 25: Built in Him
January 26: One Day Soon
January 27: Thank You For Loving Me
January 28: Bearing Fruit
January 29: No Need to Operate
January 30: One Unforgettable Sabbath
January 31: Keep on Praying
Join the Journey 
To help you dig deeper into God's Holy Word this year, we're offering:
Every Month—This calendar, themed "Words of Life," coincides with the devotional book and videos. It features a biblical topic and verse each month, with additional passages for further exploration, study and ideas on how to apply the concepts in your daily life.