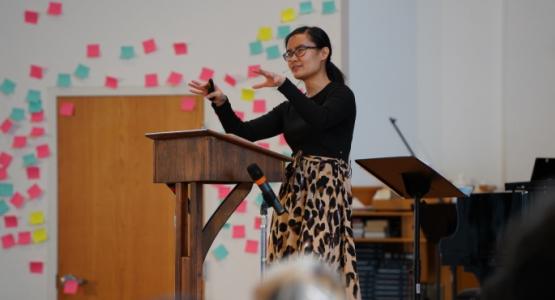 'Generation Rain' Encourages Teens to Find Purpose
May 18, 2022 ∙ by Web Administrator ∙ in Chesapeake Conference
Story by Evan Knott
High schoolers recently gathered for "Generation Rain" at Highland View Academy in Hagerstown, Md., to meet new friends and learn more about discovering their purpose.
Generation Rain is an annual retreat organized by Chesapeake Conference's Youth Department for ages 13–19. The name of the retreat derives inspiration from Joel 2:28, aiming to help young people discover and follow God's plan for their lives.
"We're training young people for the last generation," says Carl Rodriguez, youth director. "Our goal is to disciple young people to allow the Holy Spirit to fill their lives so they can serve a new mission for God."
This year's theme focused on purpose, featuring keynote presentations from Chelsy Tyler, the student and volunteers pastor at the New Hope church in Fulton, Md. The weekend also featured breakout seminars on relevant teen topics, discussion groups and social activities.

Scan the QR code and watch the video to learn more!