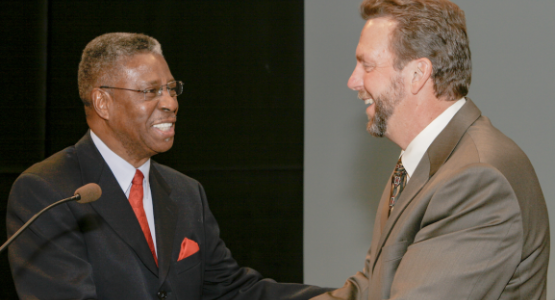 Columbia Union Members Remember Harold Lee
November 14, 2022 ∙ by vmbernard ∙ in Columbia Union News
Story by V. Michelle Bernard 
Harold L. Lee, president of the Columbia Union Conference from 1998-2006, passed away Wednesday, November 9. 
Born in Wellsburg, W.Va., Lee was introduced to the Seventh-day Adventist message in Ohio through his sister Rosa. After he attended Oakwood College (now Oakwood University), he started what would be over 40 years of ministry pastoring an Ohio congregation in the Allegheny West Conference.  
He also served at the Caribbean Union Conference, North American Division and Allegheny East Conference in the Stewardship departments; in the Department of Church Ministries at the General Conference of Seventh-day Adventists; and as vice president of development and public relations at (then) Oakwood College in Huntsville, Ala. He also he served as the executive secretary of the Columbia Union from 1992-1998.  
"We have lost a thoughtful, contemplative leader who gave to our union, during administrative tenure, a positive trajectory in establishing outstanding governance. His legacy continues to make a contribution in providing guidance and governance support for many of our healthcare institutions," says Dave Weigley, Columbia Union president.   
Condolences to the Lee family and warm memories of Lee poured onto the Columbia Union Visitor Facebook page recently. 
Tom Wetmore, a longtime Columbia Union member, wrote on Facebook, "I'm so deeply saddened by this news. I was blessed to serve with him through the years. His good humor and friendship will be long remembered. He was a man of integrity and served our Church with honor and distinction." 
Hamlet Canosa, former vice president for Education at the Columbia Union, wrote, "This is heartbreaking news. It was both my privilege and pleasure to work for and under Elder/Dr. Lee throughout his CU presidential tenure and some of his earlier years of service as CU Executive Secretary. A godly servant leader that led with wisdom and determination." 
In an interview, Peggy Jean Lee a long-time Columbia Union Revolving Fund employee who worked with Lee said, "He was great to work with.  [He] expected a lot out of you but also gave support to do the learning and growing to keep up with the changing technology, etc.  He liked to know details, but also trusted you to do your best.  He worked hard and long hours.  My mom [who used to work at the union] and I used to joke and say that we'd worked too late if we worked past the time that Elder Lee was in the office." 
Denise Isaac, a Chesapeake Conference member on the Columbia Union Executive Committee, first met Lee when she served on the committee from 2001-2011. The first thing I remember about him is, "What a leader he was and how much he cared about our conference and the Columbia Union and people. He cared about you and what was going on in your life," she said, noting that in 2004 before a scheduled surgery, she was absolutely terrified. "Lee made a point of calling me and laying hands on me before the surgery, helping give me peace before this serious operation," she adds. 
Lee as a Leader 
In a June 2006 Visitor article on Lee's retirement, colleagues and members alike shared appreciation of his leadership within the Columbia Union, noting his sense of humor and instilling a "family atmosphere" at the union headquarters in Columbia, Md., and for his strong sense of leadership. 
"Harold works very hard and has a hectic schedule. But through it all, he [was] caring, pleasant, affirming, and respectful. The bonus is being able to laugh while we work. With that mischievous grin, he adds his own special brand of humor that makes you have to smile. Overall it's a great honor to have been his assistant and I will miss him immensely," said Debbie Glass, former administrative assistant to Lee. 
In that same article, Edward Motschiedler, retired Columbia Union executive secretary, 
said, "Harold is always trying to understand the big picture. He wanted to know what we needed to do today to ensure a vibrant church for the next generation." 
A Lifelong Learner 
Lee identified as a lifelong learner, earning a Doctor of Ministry from McCormick Theological Seminary in Chicago; a bachelor's from Oakwood College; a master's from Andrews University (Mich.); and a certificate in educational and financial management from Harvard in Cambridge, Mass. He also served as an adjunct professor at Andrews University, Oakwood University and (then) Columbia Union College in Takoma Park, Md.   
When asked what he wanted the Columbia Union people to know about him personally in an 1995 interview with writer Charlotte McClure, he said he was a pastor at heart. "I consider myself a people person. I love people. Pastoring is my first love, congregational ministry," he said. "I like listening and I'm still at work trying to develop skills to what is now being referred to as depth learning." 
After retiring from the union in 2006, Lee later served as the director of the Bradford-Cleveland-Brooks Leadership Center on the campus of Oakwood University. 
Lee leaves behind his wife, Barbara, and their three adult children, Debra, Robert and Angela, and several grandchildren. 
The Columbia Union Visitor staff will share memorial details as they become available. 
From the Archives