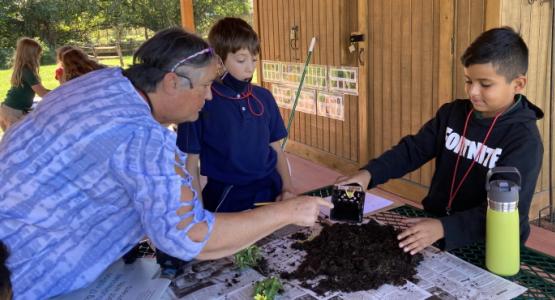 MAPS Holds Outdoor Education Pavilion Grand Opening
May 03, 2022 ∙ by Web Administrator ∙ in Coronavirus Pandemic, Potomac Conference, Education
Story by Debra Anderson
With the increasing challenges of COVID-19, emotional health and technology addictions facing education today, Manassas Adventist Preparatory School (MAPS) in Virginia has sought a creative answer to these struggles by incorporating outdoor education into its classes.
The school recently celebrated the grand opening of its brand-new Outdoor Education Pavilion. This space provides a launching pad for many outdoor education experiences and classes. It is equipped with a whiteboard, collaborative learning seating and storage areas for learning tools. Members of the Manassas church collaborated with the school to build this incredible facility. Throughout the day, students experience the joy of learning in God's book of nature, and, on the weekends, church members and friends fellowship and soak up nature together.
Ruth Davis, the K–2 teacher, says, "MAPS is excited about being on the cutting edge of outdoor learning and is committed to using the Outdoor Education Pavilion to excite wonder and a love for nature in our students."
Ellen White writes, "The field and hills—nature's audience chamber—should be the schoolroom for little children. Her treasures should be their textbooks. The lessons thus imprinted on their minds will not be soon forgotten" (Child Guidance, p. 48).