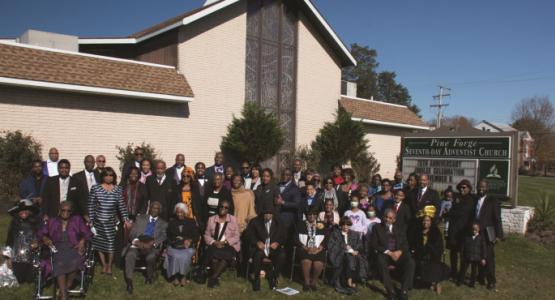 Pine Forge Church Celebrates 75th Anniversary
February 01, 2022 ∙ by Web Administrator ∙ in Allegheny East Conference, Education
Story by LaTasha Hewitt
During a recent Sabbath jubilee service, the Pine Forge (Pa.) church celebrated its 75th anniversary. Witnessed by members, guests and supporters, Pete Palmer, Allegheny East Conference (AEC) president, and his wife, Dahlia, also attended.
The church, situated on the Pine Forge Academy (PFA) campus, was directly involved in PFA's establishment. The school opened in September 1946, and the church formally organized in November with John H. Wagner, Allegheny Conference president, presiding and George E. Peters, General Conference secretary of the Negro Department, preaching the church service message.
During the jubilee service, several members received recognition for 50 years of membership, including Robert and Audrey Booker, Vivianne Jones and Arlene Ellison. Members also honored 90-year-old Gloria Davis, a special invitee, who was among the first to be baptized that school year.
Stephen Richardson, Pine Forge pastor, preached a sermon titled, "Treasure Perceived as Trash," reminding members of their first worship site: a livestock barn transformed into a chapel. He paralleled that idea with God's divine vision, which sees the value of every segment of humanity, even when others perceive them as worthless.
Robert Booker, head elder, comments, "I can look back on my youth when I arrived as a student in 1954 and trace the valuable impact of Pine Forge church through the years."
As part of the worship service's litany, the congregation appealed to God in unison, "May we spend eternity with Thee in jubilee!"