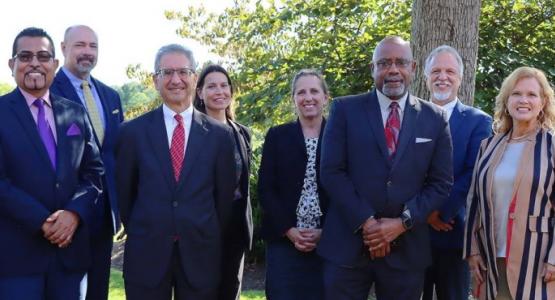 Potomac Conference Partners With City, Launches We CARE
January 26, 2022 ∙ by Web Administrator ∙ in Potomac Conference
Story by Tiffany Doss
In an effort to go "beyond the walls"—the conference's new initiative—administrators recently met with Staunton, Va., city officials. "[Our] office has been in the community over the past 50 years, but many people don't know who we are or what we do," explains Charles A. Tapp, president. "We wanted to meet with city officials to ... let them know we are here to build relationships, help our neighbors and reach out to those in need."
Conference leaders met with Andrea Oakes, mayor of Staunton, and her team to discuss ways the conference can partner with the city to help facilitate meeting community needs. As a result, members of the administrative committee team (pictured with city officials, including Oakes on right) have reached out to various nonprofit groups in the area to establish partnerships to aide in the educational, physical and spiritual needs of residents in Staunton and Waynesboro, as well as in Augusta County.
"We're thrilled to be working alongside Potomac to make our community a better place," says Oakes. "We look forward to building an even stronger relationship moving forward."
This initiative falls under the conference's new We CARE (Compassion Actively Realized Everywhere) campaign, designed to build partnerships with community leaders and stakeholders. In partnership with the members of the Staunton (Va.) church, We CARE kicked off with staff distributing 400 pies around the community to local teachers, neighbors and businesses.
"No matter how our neighbors slice it, they'll know ... that We CARE about them!" says Debra Anderson, assistant to the president/director of Communication.