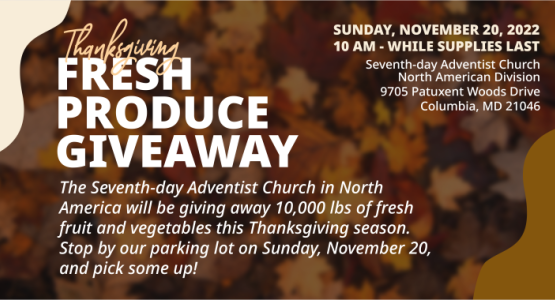 Seventh-day Adventist Church Organization to Host Thanksgiving Fresh Produce Giveaway
November 08, 2022 ∙ by vmbernard ∙ in Health & Lifestyle
Story by Melissa Reid
If you're in need of fresh, quality food during the Thanksgiving season, the Seventh-day Adventist Church is here to help!
On Sunday, November 20, 2022, the North American headquarters of the Seventh-day Adventist Church will give away 10,000 lbs. of fresh fruit and vegetables. "During this Thanksgiving season, we want to help our neighbors and express our gratitude for being a part of the local Howard County community," says Orlan Johnson, director of Public Affairs and Religious Liberty Ministries for the Seventh-day Adventist Church in North America.
The building is located in Columbia, Maryland, at the intersection of Snowden River Parkway and Broken Land Parkway. Starting at 10 a.m. all community members are welcome to stop by the parking lot and pick up fresh produce.
Sunday, November 20, 2022
10:00 a.m. — until supplies last
Seventh-day Adventist Church North American Division 
9705 Patuxent Woods Drive, Columbia, MD 21046
Visitors will be able to choose from a selection of fresh fruits and vegetables. Additional giveaways will include reusable bags, sharing literature, and children's activity pages. Younger attendees will also be able to enjoy the onsite bounce house.
"We love being a part of the Howard County community, and a produce giveaway is a small way to serve our friends and neighbors. This is our fourth time to host this event, and we look forward to welcoming new and familiar faces," says Johnson.