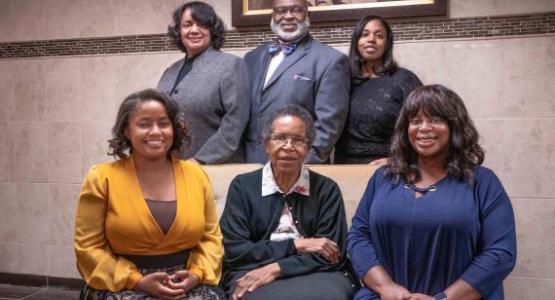 Southeast Church Spotlights Innovative Sabbath School
June 08, 2022 ∙ by rbacchus ∙ in Allegheny West Conference
Story by Cecily Bryant
Barry Brooks, Sabbath School superintendent of Allegheny West Conference's Southeast church in Cleveland, and his team represent success that grew out of adversity. The COVID-19 pandemic led this group to lean on Jesus and think outside of the box. Their combined efforts and dedication produced a creative and spiritually vibrant online Sabbath School.
The team consists of Brooks, his wife, Denise, their daughter, Brittni, and fellow church members Janviere Lavender, Elva Battle, Charity White and Reuel White. Whether their efforts involve planning, teaching or enhancing the online experience or hand-delivering Sabbath School lessons, other members say the result of their teamwork is excellence.
When COVID-19 caused churches to close in 2020, Brooks says they "had to make some moves to try and stay safe." Changing the format from Saturday morning conference calls to Friday night Zoom meetings allowed for a more interactive experience.
What makes this endeavor so unique is efficient programming and outstanding presenters, say church leaders. Well-informed facilitators ranging from clergy to laypersons guide participants through lesson study.
There is something to keep everyone engaged. Kids Korner, hosted by White, features online Christian games for children. Brooks states, "White is doing things I don't have the skillset for. The online Christian games connect to stories about Jesus and the prophets."
Brooks attributes much of the success to church leadership. Stan Hood, senior pastor, and his wife, Alisa, have taught Sabbath School and assist with programming development. Alfred Booker and Donald Burden, former Southeast pastors, have served as guest teachers.
Borrowing from Southeast's vision, Brooks shares that their goal is to "engage people by presenting Sabbath School, equip them by learning God's Word and empower them to go out and tell the story of Jesus Christ."
This team is continuing to develop ideas to keep members engaged and gain new ones. As Brooks always reminds class after lesson study, "When you miss Southeast Sabbath School, you've missed a lot!"