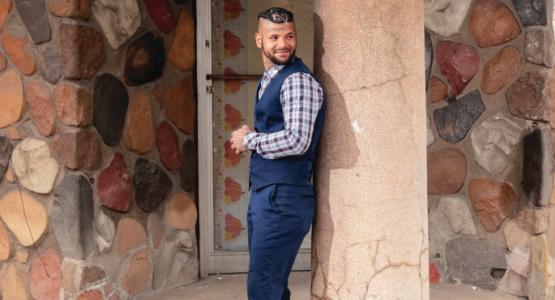 April 18, 2022 ∙ by Web Administrator ∙ in Ohio Conference, This Month's Issue
Story by Ricardo Bacchus
Eight-year-old José Martínez didn't know what to do or who to turn to. His mom abused him verbally and physically, frequently saying, "Why didn't I get an abortion?" His brother bullied him. His sister ignored him. His stepdad, an alcoholic and drug addict, deserted him. Martínez longed to be wanted; he felt abandoned instead.
One day in his hometown of San Lorenzo, Puerto Rico, Martínez saw his brother and cousin smoking weed. Wanting an escape from the reality of life, he tried it and was instantly hooked. Finally, I found something that makes me feel whole, he thought.
Three years later, Martínez observed his uncle doing cocaine. Heavily under the influence, his uncle gave some to Martínez. From that point on, they often got high together, triggering Martínez's aggression. Whenever he "got a hit," his violence bubbled to the surface, often resulting in fights at school. One time, he was so angry he almost burned the building down.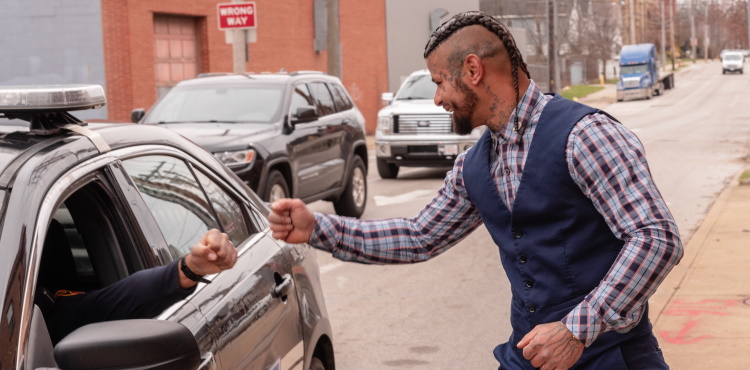 When he was 13, his mom smelled weed on him. This intensified her abuse toward him, so he went to live with his biological dad in Arecibo. But his dad worked two jobs and was never around. This left him alone with his stepmom, a user who sexually abused him. "I would get so angry at her that I wanted to kill someone," Martínez says.
To curb his aggression, he got into competitive wrestling, winning medals for Puerto Rico. Around this time, his curiosity piqued. What drug could make me feel happier? he wondered, as weed was losing its potency. That's when he turned to crack cocaine.
When Martínez's dad discovered his new drug of choice, he took him to a treatment center. After Martínez sobered up, he went back home to live with his dad, but his stepmom soon kicked him out.
Homeless at 16, his only friends were drug addicts and his new favorite companion, heroine. At 17, his mom began looking for him, posting his photo around Arecibo. A police officer recognized him and took him to a detoxification center. Four days later, Martínez escaped the facility. This became a vicious two-year cycle: detoxing, escaping, returning to drugs.
THE PHOTO
In 2014, a friend from his wrestling days saw him begging for money at a streetlight. This friend had a mutual friend who knew Rosemary Figueroa, a girl Martínez grew up with who was now living in Cleveland. Figueroa was shocked to see a photo of the boy she used to babysit, now looking so hurt and damaged.
"The second I saw that photo, I fell in love with him," Figueroa says. "I knew I could help him. I was determined to."
After meeting up with Martínez, Figueroa and her three daughters took him in. She put him in 12-step programs and treatment centers in Cleveland, only for him to leave and resort to the streets. She frequently searched for him, often finding him eating out of garbage cans. As a result of his addiction, she and her daughters lost everything multiple times. But Figueroa believed change was around the corner.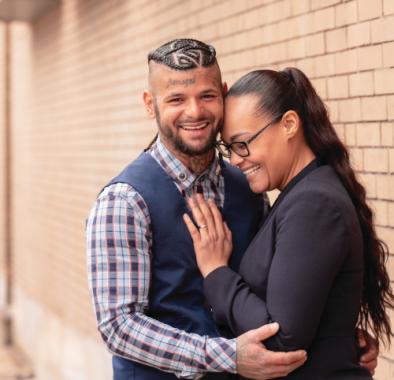 Figueroa and her daughters educated themselves in case Martínez ever overdosed. That day came when her youngest daughter knocked on the bathroom door and Martínez didn't answer. She looked under the door and saw him lying on the floor. Attempting to commit suicide, he mumbled, "Leave me alone. I want to die." Figueroa managed to push the door open and get him up and moving.
"There was a warrant for his arrest because he was on probation," says Figueroa. "I didn't want to turn him in but visiting him in jail was better than visiting him at the cemetery. I told him he was not going to die on me. We will do this together."
This cycle went on for six more years, with the family often eating white rice and ketchup because that's all they could afford. Sometimes, when there was no food, they imagined eating so they wouldn't feel hungry.
THE TURNING POINT
While living on the streets again, Martínez encountered a mechanic who offered him a job. For some reason, the mechanic, a former drug dealer who was hooked on drugs, listened to Christian music while working. "The mechanic talked to me about God while smoking marijuana," Martínez says. "He told me God loved me. He wanted me to get off the streets. I guess God can use anybody to give you the message."
It was at this mechanic shop that Martínez met a regular customer, William Medina, a church member from Ohio Conference's Roca Eterna Mission church in Cleveland. Roca Eterna was across from the cemetery where Martínez slept. On Sabbath mornings, Medina would invite him to church, which was held in the lobby of an apartment building across the street.
Martínez would turn him down because he either hadn't showered for days or his clothes were bloody and mangled. "Everyone is going to laugh," he told Medina. But Martínez felt that God was beginning to transform his life. I want you to be well, just let Me, he could hear God call.
In 2020, Martínez and Figueroa got married. He finally had a permanent place to live. But Figueroa repeatedly found him sleeping at the cemetery, begging for money and doing and selling drugs.
Medina continued to faithfully invite him to church every Sabbath.
One day, Martínez returned home. Trying to get high in his bathroom, his needle broke. He looked in the mirror and broke down in tears. "My body started shaking. I cried out to God, 'I'm killing myself. Please give me one more chance, and I'm going to take it.'"
When he exited the bathroom, the phone immediately rang. It was a friend who had been homeless with him in Puerto Rico. Eight years clean, he invited Martínez to Connecticut to try a medicine that was helping him stay clean. Under the supervision of a doctor, Martínez started taking a medication to treat drug addiction. His cravings began to fade. Four months later, he stopped using hard drugs altogether. Having sobered up except for weed, he thought, I will visit William's church!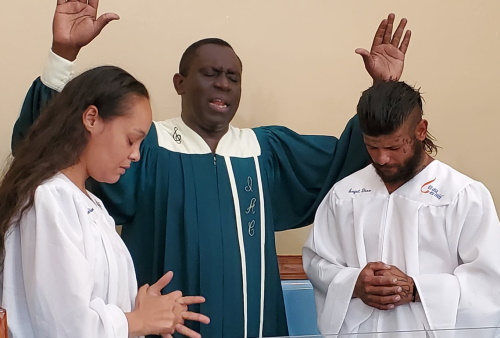 The first Sabbath Martínez visited Roca Eterna, he felt right at home. "I felt loved. They treated me like family, like as if they already knew me," shares Martínez. "They didn't care that my clothes were dirty. They told me, 'We are going to take care of you.'"
Martínez shared his church experience with Figueroa, but she was hesitant to attend because she didn't believe his "conversion" was real.
"Maybe he'd go [to church] just for a few days or weeks, but I thought he would stop going or turn back to drugs. Or he was just doing it just for others to see," she says. "But he kept going every Sabbath, so one Sabbath I went with him."
Having grown up in a different religion, Figueroa initially felt out of place when she stepped through the doors, but once she started talking to the members, they involved her, and she began participating. The couple tried to get their daughters to go, but Martínez's anger was getting in the way.
"At church he was so nice, but we would come home, and he would get so outraged about every little thing. He was acting like a hypocrite," she says. "What I failed to realize was that he was having a war inside of him as he was trying to leave his old life. Satan didn't want to let him go."
It wasn't until church members advised and taught Martínez how to act toward his family that his demeanor and attitude started to change. Their daughters could see he was truly transforming and began attending church too.
'DEALING GOD' AT THE CORNER
"My life began to transform," says Martínez, who is now off weed. "The love I felt from my new church family empowered me to do great things." Now, instead of asking for money and using drugs at the corner where he used to sleep, he spreads the gospel.
"On Sabbath mornings, I would stand at the corner, inviting people to come to church. Because of the way I looked, with scars and tattoos, I was able to reach out to the homeless, prostitutes and addicts because they could relate. I shared my testimony on how I got out of that terrible life, and they listened. I still do this to this day!"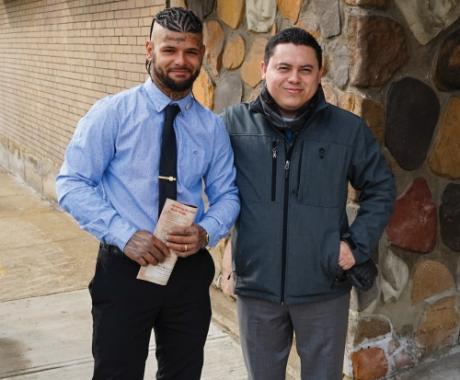 Wilson Baca, pastor of Roca Eterna, welcomed this evangelizing. "Both José and Rosemary gave and continue to give Christian books to passersby and those in cars."
In fact, the entire church—comprised of 30 members—has now joined the effort. After church, members hit the corner. "There are people who say this is what they've needed and have cried with us," says Martínez. "People say, 'You guys have something special. Can you pray for me?'"
Wanting to learn more about the Bible, the couple studied with Ángel Díaz, an elder at Roca Eterna. They later asked for baptismal lessons, culminating with their baptism May 29, 2021, at the conclusion of a "2023 Initiative" evangelistic campaign led by the Ohio Conference.
Sometimes Martínez, now 31, sees people asking for money or doing drugs on the corner where he slept, and he feels bad because he knows what they are going through. "I run into people who I sold drugs to or bought drugs from," he says. "When they see me, they say, 'You're a new man. Whatever happened on the streets stayed on the streets.' All I do is give them the Word and scream 'God loves you!' I tell them, 'My life changed; God changed me. I was like you. I did it. You can do it too.'"
Baca says, "[The couple is] a blessing to our church. They have taught us many things. With Jesus and help and support from others, anyone can beat an addiction. If you didn't know their story, you would never know how much they've gone through in their lives. And now their passion is service."
At Roca Eterna, Martínez greets, sings up front, offers prayer, picks up tithe and offerings and manages the audio/visual. He also fixed the roof of the apartment building where they worship. Figueroa helps lead song service and conducts a monthly youth and young adult bilingual church program.
'EVERYWHERE I GO'
Working legally for the first time in his life, Martínez offers roadside assistance—a job that allows him to take off Sabbaths. At work, he shares the love of God with stranded drivers and co-workers. He also blasts Christian music. As a result of his new lifestyle, four of his friends now attend Roca Eterna. Another friend, a former user, got baptized. "Everywhere I go, I share my testimony," Martínez says. "When you have God, people don't see your tattoos. It's beautiful having Him in my heart."
Martínez's dream is to own a treatment and rehabilitation center "or to go to school to become a street or church pastor," he says. "Whatever I do, I want to be an important tool for God here on earth. My ultimate goal is to go to heaven with my church members and addicts I have reached."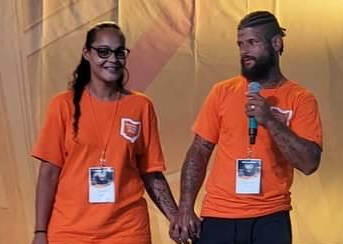 Figueroa, whose 15-year-old daughter, Amarie Sanchez, was baptized March 19, 2022, thanks Roca Eterna for everything they've done for them. "They are our best supporters. They've never turned their backs on us," she says. "Don't lose faith or hope. Miracles happen because I've witnessed them. God wants broken people because He fixes them. And He's not done with us yet."
Baca agrees, "Our church gives second chances and care to others. Many people come who have addictions. We accept addicts. We offer programs for addicts. And José and other former addicts give presentations because they have lived it. I want more people like José to come."
Martínez, who will be celebrating two years of sobriety August 2, 2022, testifies, "I feel important because the only person that I need to love me already gave His life for me. One day, I will see Him face-to-face. Jesus saved my life, my house, my wife. ... God picked me up and did something for me that I never thought was possible."
Watch Martinez and Figueroa share their testimony at columbiaunionvisitor.com/josemartinez
Read the May/June 2022 Visitor:
Turning the Corner
Editorial: It's Our Responsibility
Creating a Culturally Responsive Classroom
Video: He Didn't Know How to Return Home
Video: Reaching All Generations
Video: Reporting From Rocky Knoll
Where to Attend 2022 Camp Meetings
How Did Columbia Union Pathfinders Do in the 2022 PBE?