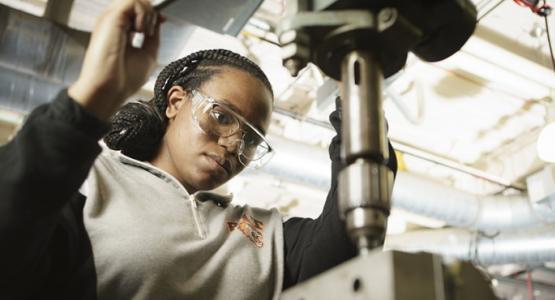 May 18, 2022 ∙ by Web Administrator ∙ in Potomac Conference, Education
Story by Salena Fitzgerald 
TA has graduated many successful professionals in business, health care, ministry and education, as well as some very successful entrepreneurs. Two of the school's more recent graduates are highlighted below: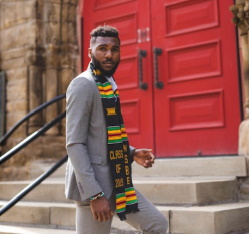 Mecca Parker ('15) was the salutatorian of his class, a star player on the basketball team and a member of the National Society of Black Engineers (NSBE)—the school's junior engineering club. Parker (pictured below) was a quintessential scholar—mature, intelligent and determined. He was the kind of student that every teacher wanted in their class. His hard work paid off when he was accepted into Carnegie Mellon University (CMU) in Pittsburgh. He enrolled in the prestigious engineering program and graduated in 2019 with a degree in Mechanical Engineering. When asked about his post-secondary experience, Parker states that "every moment at CMU was a challenge because that was just the caliber of student that they are trying to create. CMU forced me to push myself beyond what I thought I was capable of."
After graduating from college, Parker took a job as a management consultant and worked with several Fortune 500 companies like MGM and Disney. In June 2021, he started his own company. Parker is now the founder and CEO of Park West Digital, an Airtable database software consulting and training firm.
"Confront your fears," Parker advises. "Whatever you're afraid of is probably the direction you should go in because that means you have room to grow!"
Symonne Francis ('17) is another TA standout, a current student at Rochester Institute of Technology (RIT) in New York. Francis (pictured below) applied to RIT's dual-degree program, was accepted and will graduate magna cum laude in May 2022 with a degree in Mechanical Engineering. She credits some of the organizations on campus for helping her to be successful academically.
Francis spends much of her time at the Engineers of Color Creating Opportunities (ECCO) center, a campus organization that provides support for minority engineering students. She serves as a mentor to students of color who often struggle to survive at primarily white institutions. Francis says that, without organizations like ECCO and NSBE, it would have been much more difficult to achieve the kind of academic success she has. She strongly encourages students to avoid the mishigas that can sidetrack ones educational goals. Offering a bit of advice for students preparing to matriculate to college, Francis says, "Have a social balance in college. The moments that you will remember are the times that you spent with friends and the memories that were made."
Francis received the 2022 Mechanical Engineer Graduate Scholar Award that covered her tuition expenses for her final semester at RIT. She has already secured a job with the firm SPX Flow as a mechanical engineer and will begin work this summer. She encourages future students, "Focus on you! Don't be too hard on yourself, just keep trying!"