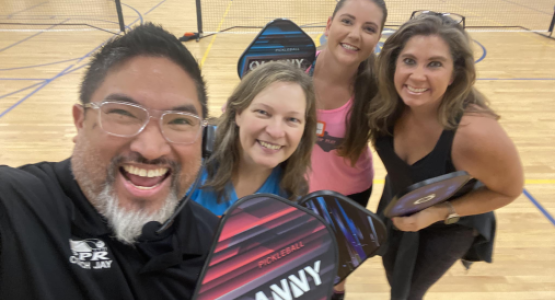 Colleagues Team up to Play Pickleball
June 29, 2023 ∙ by rbacchus ∙ in Chesapeake Conference, This Month's Issue
Story by Elizabeth Anderson
Jimmy "Jay" Alignay, aka "Coach Jay," a member of Chesapeake Conference's New Hope church in Fulton, Md., is spreading the news about pickleball to anyone who will listen, so it's not surprising he convinced Dawn Stem, a work colleague, to get on board.  
Pickleball, however, is just the latest thing on Stem's activity list with Alignay.
"I'm very close with Jimmy's family," Stem says. "He always gets me introduced to different things, and when he got involved with pickleball, he definitely reached out to me and my kids."
Stem says they've gotten involved in the past year and started playing at a few Seventh-day Adventist churches in Maryland.
"My daughter and I ... go out there, and it is fantastic. We have a ton of fun. He is a great teacher," says Stem, adding that her children go around to different pickleball activities where available. 
Stem says that another fantastic part of pickleball is that "we have no devices, we laugh, we are on a court, we are athletic, we are doing something healthy together and it has kind of brought family back." Stem says the break pickleball provides from technology is welcomed, "and I sell technology, but it was a nice break to have that experience and enjoy that time."
While exercise isn't anything unusual for them, when easing into pickleball, "I can assure you, I used different areas that I hadn't for a while," Stem says about the days following their first pickleball sessions. "And actually my kids too. We definitely felt it the next day or two." 
Now, Stem's adult and near-adult children have invited their "friends [to] go with them, and they run around Montgomery and Prince George's counties, [two neighboring counties in Maryland], to play pickleball and do different activities together.
One of the things that stands out is the gathering of people who normally wouldn't interact with each other.
"I love the fact that Jimmy brought a community together that was sitting right there and … it never came together before, she says. "That's what I think Jimmy is fantastic at. … He brings that camaraderie and that collaboration of people and puts them in an environment to really enjoy themselves and their health."