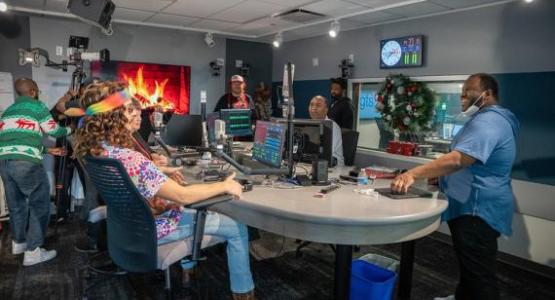 WGTS 91.9 Backdrop for Christmas Movie Set
January 25, 2023 ∙ by vmbernard ∙ in WGTS
Story by WGTS Staff
 
WGTS 91.9 is headed to the silver screen. Writer/Director Anthony Hackett chose WGTS 91.9 as one of the key sets for "The Perfect Christmas," which will be released during the 2023 holiday season.  
            "Filming at WGTS was an awesome experience!" said Hackett. "You just can't replicate that kind of atmosphere. Their facilities are top-notch, and it was a blessing to film a radio station scene for a movie with actual professionals in the radio business. As a bonus, they graciously left up their Christmas decorations for a few extra weeks in order to accommodate our needs. Can't wait for the release of 'The Perfect Christmas' so the world can see the fun and hilarious scenes we filmed at WGTS!"
            WGTS 91.9 morning show host Jerry Woods played a disc jockey in the movie, and several other staff members played extras.      "I love working in radio, and I love acting," said Woods. "I never thought I'd have a chance to combine those passions."
            "The Perfect Christmas" follows the Perfect family as they have a wild Christmas Eve and try to turn things around before Christmas morning. The movie is a Sonset Friday Entertainment Film starring Anthony Hackett ("Hope Lives"), Cameron Arnett ("Overcomer," "I Still Believe"), Gigi Orsillo ("Running the Bases," "Family Camp"), and Robert Amaya ("Courageous," "War Room"). You can learn more at theperfectchristmasmovie.com.