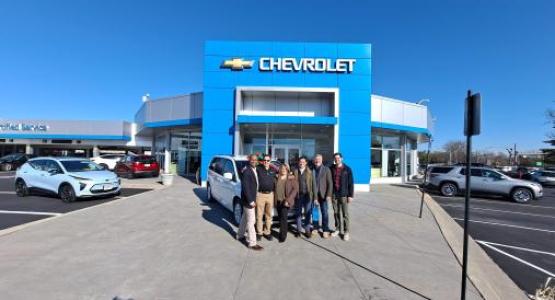 WGTS helps give away a van to a military wife
January 09, 2023 ∙ by vmbernard ∙ in WGTS
Story by Jerry Woods
WGTS 91.9 ended 2022 by helping give away a van to a deserving military wife and Mom. Rachelle Perez is a dedicated wife, mom, and community volunteer. She even runs a family support group for spouses of deployed servicemen and women. Her husband and oldest son had been deployed to Djibouti for the past year. While they were gone, she dealt with ongoing problems with her 2005 Toyota van, which had over 200,000 miles on it. A friend of Perez's reached out to WGTS and asked if there was any way to help her. In turn, WGTS reached out to their friends at Sport Chevrolet and Cadillac. Sport owner Gibbs Fogarty and salesperson Jeff Schultz helped find a 2020 Grand Caravan in almost perfect shape to give to Rachelle.
On December 29, the WGTS promo team set up a fake lunch meeting with Perez to discuss the station volunteer program. Midway to lunch, they detoured to Sport Chevrolet under the premise that a station van that was in for service was ready to be picked up. Instead, when they arrived at the dealership, WGTS marketing director Jerry Woods said, "We've been lying to you all day. We're not here to pick up a van, but you are!"  Then, Sport Chevrolet owner Gibbs Fogarty presented Rachelle with the keys to her new van. She started crying and hugging everyone in sight.
"My family is never going to believe this is real," said Perez.  
WGTS director of promotions and community relations Ken Scriber said, "Rachelle truly is the inspirational catalyst for our 'Hands and Heart" volunteer team. We know she'll use this van to bless everyone she interacts with every day."