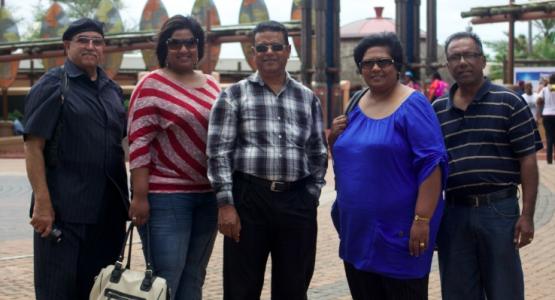 How a Funeral Led Allegheny East's President to Give an Eight-Hour Bible Study
January 22, 2014 ∙ by Anonymous ∙ in Allegheny East Conference, Uncategorized
Left to right: Henry Fordham, III poses with Anand and Beulah Pillay and Beulah Pillay's parents, while in South Africa.
Story by Robert Booker and LaTasha Hewitt
When Nelson Mandela, former president of the Republic of South Africa, died on December 5th, Henry J. Fordham, III, president of the Allegheny East Conference (AEC), felt compelled to attend his funeral. He also felt the Seventh-day Adventist Church needed representation at such an historic event.
After Fordham's flight landed in Johannesburg, South Africa, he made several other transfers by plane and buses trying to get to Qunu, the location of the burial ceremony. While at the bus station in Eshowe, he learned that the bus scheduled to take him to Qunu would not be departing the station that day.
Determined to find his way into the town, Fordham shared his plight with several station workers. One bystander overheard his pleadings and called his sister to see if her husband would take Fordham on the eight-hour journey from Eshowe to Qunu. The man's immediate reply was, "No way." However, within 15 minutes, Anand Pillay, called back with a change of heart. When Anand and his wife, Beulah, arrived to pick him up, Fordham inquired why he decided to help him. Anand shared that his mother-in-law had been listening to his conversation and insisted that he help "this man of God." This impression came to her without Fordham yet revealing that he was an Adventist minister.
However, once he made that revelation, Anand and Beulah asked Fordham if he knew preachers Walter Pearson, Henry Wright, C.D. Brooks and Dwight Nelson. Their excitement grew as Fordham revealed that he knew all of them. The couple revealed that they frequented YouTube to watch all their sermons. Beulah, however, could not understand why Adventists emphasized the Sabbath so much. That inquiry sparked an eight-hour Bible study. Fordham's newfound friends were deeply moved by his biblical explanations and were eager to learn more.
As they arrived closer to Qunu, Fordham was informed that only those "accredited " would receive access to Mandela's burial. This accreditation would only be granted if Fordham received a pass from Walter Susli University. Fordham arrived at the university at 4 a.m. and was greeted by a flood of other individuals seeking the same permission. He inquired with several individuals who appeared to be in charge, but was rejected at each turn. He thought he might be able to observe the services from afar, but soon learned that nearly 12,000 soldiers were securing the 5-mile radius protecting the perimeter of Qunu. Deflated, he left the university.
After a long and tiring day, returned to the bus station intending to spend the night there. Noticing that his cellphone battery was low, Fordham called the Allays to thank them again for their help. They insisted he stay with him. While at their home, the couple asked Fordham to share the same Bible study about the Sabbath with their parents (and later, their pastor), which Fordham gladly did. Over the next couple of days, the family housed, fed and entertained Fordham. They took him to see the burial of Mandela at a wide-screen viewing in town and also to see the premiere of the film, Long Walk to Freedom, which is based on the life of Mandela.
While Fordham never made it to the funeral, he was elated that God chose him to share Adventist beliefs with fellow Christians halfway around the world.