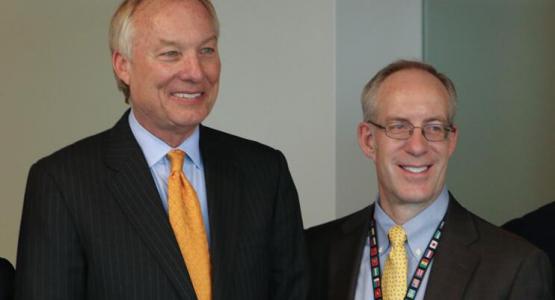 Maryland Comptroller Honors Adventist HealthCare CEO
April 01, 2014 ∙ by Anonymous ∙ in Adventist HealthCare, Columbia Union News, Health Systems, Uncategorized
Story by Danielle Lewald
Peter Franchot, comptroller for the state of Maryland, recently honored William "Bill" G. Robertson, current president and chief executive officer of Adventist HealthCare (AHC). Robertson, who ends his 14-year tenure at the
Peter Franchot, Maryland comptroller, thanks William "Bill" G. Robertson, outgoing president of Adventist HealthCare, for his contributions to Maryland.
helm of AHC this week, received a certificate of recognition, which states:
"In recognition of your exceptional tenure as the President and CEO of Adventist HealthCare. With special appreciation for the health care system's success and contributions under your leadership to the State of Maryland, the regional economy and, most important of all, to the health and well-being of our citizens."
Both men have worked closely on business and health initiatives since Robertson joined AHC in 2000. Franchot expressed appreciation for Robertson's contributions to Maryland and the region, and confidence that Robertson's vision for the health system will be implemented.
"I've known a lot of healthcare leaders, but there aren't any that can hold a candle to you," Franchot said, while presenting the certificate to Robertson at AHC's headquarters in Gaithersburg, Md. "Thank you for your innovation, leadership and stamina."
In addition to the proclamation, Robertson was awarded a Comptroller Medallion, a special honor presented to Marylanders who have made a significant impact on the state.
This story was originally published in the April 1, 2014 Adventist HealthCare Prism newsletter.